Iranian President orders investigation into violent death of woman arrested by 'morality police'
Comments
By AP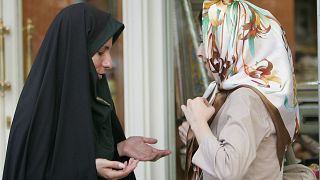 -
Iranian President Ebrahim Raisi has ordered an investigation into the death of a young woman who was arrested by the country's "morality police" for wearing an inappropriate headscarf.
Police say 22-year-old Mahsa Amini died in custody from a "heart attack", though this has been challenged by relatives, witnesses and activists who accused police of violently beating her. 
The incident has prompted a huge outcry in Iran, where the government's Islamic policies around dress codes are deeply unpopular among a large section of society. 
According to the state-run IRNA news agency, President Raisi asked Interior Minister Ahmad Vahidi to "investigate the cause of the incident with urgency and special attention."
The headscarf has been compulsory for women in Iran since the 1979 Islamic Revolution, with this dress code being strictly enforced by the authorities. 
While travelling from Iran's Kurdistan region to visit relatives in Tehran, Iran's capital, Amini and her family were stopped by a patrol of morality police on Tuesday evening. 
The morality police are a dedicated police force who patrol the streets enforcing Islamic behaviour and strict dress codes, especially that women wear the compulsory hijab or headscarf.
Human rights activists who have spoken to the family say officers manhandled Amini and forced her inside a police van, according to IranWire. 
Her brother, Kiarash, tried to intervene, but was told his sister was being taken to the police station for one hour of "re-education," IranWire reported. He said he never saw his sister awake again.
Eyewitnesses said Amini was beaten while inside a police van soon after she was picked up.  
Police deny this allegation. 
As he waited outside the police station for Amini to be released, Kiarash said an ambulance arrived and quietly drove his sister to a nearby hospital.
Speaking to IranWire, Kairash said he was told by officers that his sister had suffered a heart attack while in the police station and was now in a coma.
Tehran's police maintain this claim, saying on Thursday that Amini "suddenly suffered a heart problem."
"The woman was sent to a Greater Tehran police precinct for guidance and education when suddenly, in the presence of other people, she had a heart attack," they said.
Amini's family doubt the truth of this, pointing out that she was a healthy 22-year-old woman with no pre-existing heart conditions.
A video released by Iranian state TV purports to show Amini walking into an "education" centre where she would receive "guidance" on appropriate Islamic dress, state media said.
The CCTV footage shows a woman walking across a room toward a fully veiled woman who touches her clothing. She then collapses onto a chair. 
The next clip shows a group of men carrying her unconscious body on a stretcher. 
According to CCN, the video is edited at 19 seconds. In the first scene, it appears to be daylight outside. In the next, it appears dark.
It remains unknown what happened to Amini after her arrest and before she appeared at the re-education centre. Euronews cannot verify that the woman in the video is Amini.
The case -- which has drawn condemnation from Iranian celebrities, athletes and other public figures -- comes amid mounting reports of violent and repressive acts against women, most of whom for not complying with rules around the hijab.