De La Rue shares drop 30% on turnaround delay as COVID woes worsen
Comments
By Reuters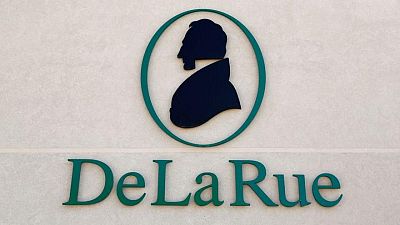 -
By Yadarisa Shabong
-De La Rue has delayed the delivery of its turnaround plan by a year and warned that annual profit will miss market expectations, as the banknote printer struggles with coronavirus-related staff absences and supply chain issues.
Shares in the London-listed company tumbled 30% as it said staff shortages, supply snags and cost inflation have got worse, hitting its higher cost sites in Britain and Malta, and lowering its total output for the year.
De La Rue launched a three-year turnaround plan in Feb. 2020 after warning on its future and scrapping dividends to tackle mounting debt following a series of setbacks including the loss of a major contract for British passports.
CEO Clive Vacher told Reuters that the external factors, which were not present when the company put the plan together, had intensified and so profits would not grow as fast as the group originally expected.
The turnaround plan entails cost reductions and investments in polymer notes and in its authentication business, while growing revenue and margins.
"While this trading update is disappointing, it should be seen as a delay to reaching our Turnaround Plan objectives, rather than indicating that a change of direction is required," Vacher said.
He said the company was tightly managing cashflow and working capital and still aimed to pay a dividend in the next financial year.
The company said it was cutting more costs to deal with the pressures and it forecast adjusted operating profit to be in the range of 36 million to 40 million pounds ($48.73 million-$54.15 million) versus market expectations of 45 million to 47 million pounds for the year ending March.
De La Rue, which also has a contract to supply polycarbonate datapages for the next generation Australian passport, said it had also been hit by a shortage in chips, which are embedded in pages it supplies to Note Printing Australia, part of the Reserve Bank of Australia.
($1 = 0.7387 pounds)