COVID variant: What do we know about the UK's coronavirus mutation?
Comments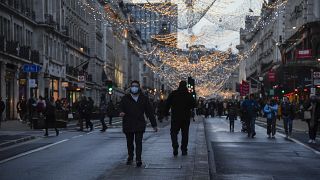 -
The UK issued harsher restrictions to tackle the emergence of a new, more infectious variant of coronavirus that began spreading rapidly in southeast England late last year.
Experts agree the variant is more transmissible than others, as it quickly became the dominant form of coronavirus in the UK.
Scientists at the London School of Hygiene and Tropical Medicine estimated that the variant is around 56% more transmissible, in a study released in preprint.
So what do we know about this new variant that caused the epidemic to deteriorate in the UK?
When did officials first report the new variant of coronavirus?
UK health minister Matt Hancock first announced that there was a new variant of coronavirus (a mutated version of the virus) in London and southeast England on December 14 in the House of Commons.
"Initial analysis suggests that this variant is growing faster than the existing variants," Hancock warned, stating that it could be responsible for rapidly rising cases in the southeast of England, something officials would confirm later in the week.
Hancock said that more than 1,000 cases had been identified in 60 different local authority areas.
"We are aware of this genetic variant reported in 1,000 individuals in England," Dr Mike Ryan, the director of the World Health Organisation (WHO)'s emergencies programme. "This particular variant seems to have become more prevalent in the UK," he added on December 14.
"This kind of evolution or mutations like this are actually quite common," said Dr Ryan, who added that there were several questions about significant variants. He said that the UK officials were being very transparent and had already shared the variant's genome sequence.
WHO's COVID-19 technical lead Maria Van Kerkhove said that one of the mutations was being monitored already by a virus evolution working group.
"It's come up in the context of a mink variant identified elsewhere," she added. That mutation is just one of the changes in this UK variant, according to a study of the variant's genome published later that week.
Hancock said that they do not think this variant of coronavirus would fail to respond to a vaccine.
British officials said later that week that this variant was more transmissible and quickly becoming the dominant variant in the UK.
What are the changes to this coronavirus variant?
The UK's chief scientific advisor Sir Patrick Vallance said on December 19 that the new variant had 23 changes, "many of them associated with changes in the protein the virus makes."
"This is an unusually large number of variants. It's also got variants in areas of the virus that are known to be associated with how the virus binds to cells and enters cells," Vallance said. "So there are some changes which cause concern in terms of how the virus looks."
He said studies and analysis had showed that the variant was more transmissible, meaning that it was spreading more quickly.
The UK's New and Emerging Respiratory Virus Threats Advisory Group (NERVTAG) had concluded in a meeting on December 18, that it is moderately confident the UK variant is substantially more transmissible than other variants.
"This new variant not only moves fast, its increase in terms of its ability to transmit, but it is becoming the dominant variant. It is beating the others in terms of transmission," Vallance said.
It first appeared in September and by November it was responsible for 28% of the COVID-19 cases in London. By the week of December 9, more than 62% of London's COVID-19 cases were from this new variant, officials said. By January, roughly nine in 10 cases evaluated in London had an S-gene mutation compatible with the new variant, according to a technical briefing guide from Public Health England (PHE).
PHE estimates that the percentage of contacts to catch coronavirus from a confirmed case has gone up from about 11% of contacts getting it from people infected with other variants versus 15% of contacts testing positive from people infected with the new variant.
What has happened since the new variant was detected?
The new variant sparked global concern and led many countries to close borders with the United Kingdom, creating a dire situation at the country's border in December as truckers were stuck unable to cross into the EU.
UK officials also closed schools to control the spread of the virus and imposed a third national lockdown.
By early January, one in 50 people in England had COVID-19 due to rising infections and increased spread due to the new variant.
The country has also been recording record daily deaths amid the rise in infections, forcing others to impose stricter measures as they watch events unfold in the United Kingdom.
Officials for the WHO's European region urged countries to "intensify" measures amid the more transmissible variant. French officials said they would begin testing in schools that remain open to stave off new coronavirus cases.
The US has now said that anyone entering the country needs a negative COVID-19 test.
In the meantime, the UK has launched an in-depth vaccination campaign, approving three COVID-19 vaccines and opening seven mass vaccination centres. Boris Johnson has said that he hopes to ease some restrictions by mid-February.
**
Does this new variant cause more severe disease?
UK officials say that they do not think that the new variant causes more severe disease or more deaths, but it does spread more quickly which could cause big problems for infection numbers.
"There is no current evidence to suggest the new strain causes a higher mortality rate or that it affects vaccines and treatments although urgent work is underway to confirm this," said Professor Chris Whitty, England's chief medical officer, in a statement released in December.
Vallance has said that there was no evidence that this variant causes more hospitalisations but that for now it's a question of transmission.
"This virus spreads more easily and therefore more measures are needed to keep it under control," he added.
How far could has the variant spread?
Despite border measures and more restrictions, this variant has already been located in 50 other countries or territories, the World Health Organisation (WHO) has said.
Countries are now developing better surveillance methods but experts warn that the variant could quickly replace other variants since it is much more transmissible.
Other new variants have also emerged including one in South Africa that has been found now in 20 countries, the WHO has said.
This story is being updated as new information emerges about the variant.