Five takeaways from Super Tuesday
Comments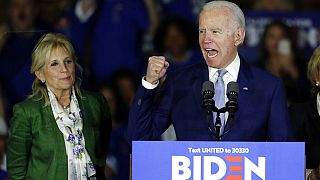 -
A resurgent Joe Biden swept at least nine states on Super Tuesday in a stunning comeback that transformed the Democratic nomination race into a two-man contest against Bernie Sanders, who won in the state of California.
Fourteen states, including the two most populous, were holding primary elections on Super Tuesday as part of the race to determine who will face President Donald Trump in the November presidential election.
1. Stunning comeback for Biden
The former vice-president won the key state of Texas — the second-biggest prize of the night — along with Massachusetts in the northeast, Minnesota in the upper midwest, Oklahoma, and Virginia, Alabama, North Carolina, Tennessee and Arkansas across the south.
Biden turned his campaign around in the South Carolina primary over the weekend.
He had underperformed in several early states including Iowa and New Hampshire that have historically been important indicators of who the frontrunner candidates are.
But many observers said his campaign was effectively saved by his success in South Carolina, after which several candidates dropped out of the race.
"South Carolina was clearly enough because several of the other candidates have dropped out as a result because if they couldn't beat Biden in that state then you could pretty much write off states with larger concentrations of black voters," said Andre M Perry, a fellow in the Metropolitan Policy Program at the Brookings Institution in Washington DC.
Biden ended up winning Minnesota, the state where former candidate Amy Klobuchar is a senator. Klobuchar endorsed the former vice president after dropping out of the race.
"We won Minnesota because of Amy Klobuchar, and we're doing well in Texas because of Beto O'Rourke," said Biden while speaking to supporters in Los Angeles.
There were 1,344 delegates up for grabs on Super Tuesday out of a total of almost 4,000.
With votes still being counted at 1 p.m. CET, the Associated Press projects 453 delegates for Biden, 382 for Sanders, 50 to Warren, 44 to Bloomberg and one for Rep. Tulsi Gabbard.
The ultimate nominee must claim 1,991 delegates, which is a majority of the 3,979 pledged delegates available this primary season.
"People are talking about a revolution. We started a movement," Biden said in Los Angeles, mocking one of Sanders' signature campaign lines.
2. Sanders takes California
Bernie Sanders, the frontrunner in the early races, won his home state of Vermont, along with Colorado and Utah. However, his biggest victory was in California, the state with the highest number of delegates.
Trump took to Twitter Wednesday to call Biden's strong Super Tuesday showing "a perfect storm'' and amplify his long-running argument that the Democratic Party would move to stop Sanders from winning the nomination.
``The Democrat establishment came together and crushed Bernie Sanders, AGAIN!'' Trump tweeted.
Sanders had swiped back after Biden's remarks, saying: "You cannot beat Trump with the same-old, same-old kind of politics,'' he declared, ticking down a list of past policy differences with Biden on welfare, trade and military force. "``This will become a contrast in ideas.''
Even though Sanders and his fans may have had higher expectations for Super Tuesday, the results have turned the once crowded field into a two-man-race.
Sanders' strength lies in small-donor contributions. He is collected millions each month in small-dollar donations.
3. Biden's performance among black voters
Performance among black voters is key to determining how candidates will fare in a national election.
"If democrats need Obama-like turnout to win the presidency...the black voters are coveted at this point," said Perry at the Brookings Institution.
An NBC News exit poll showed that Biden won 72% of the black vote in Alabama. Black voters were far more likely to support Biden than any other candidate in Virginia, the Associated Press' VoteCast reported.
Biden had a clear advantage among black voters in North Carolina, where half supported him and just a quarter supported Sanders, according to AP VoteCast.
"I think the obvious is he was the vice president of the first black president and so that helps. I also think that he was helped by an inability of other candidates to seal the mantle of the candidate that supports black voters the most," said Perry.
4. Billionaire Bloomberg underperforms
The former New York mayor only won American Samoa on Super Tuesday despite outspending other candidates.
He later quit the race and endorsed Biden.
Bloomberg spent more than half a billion dollars on his campaign, pouring money into television and social media advertising.
Many observers thought the billionaire would perform better than he did on Tuesday night.
"Basically, what's made Bloomberg a serious candidate, he's been able to spend an infinite amount of money," said Miles Coleman, at the University of Virginia's Centre for Politics.
"The free press that Biden got from his victory in South Carolina ... people are rallying around him [and] that has erased Bloomberg's effect that which his paid ads may have had," Coleman added
5. Elizabeth Warren loses her home state
Many observers have said that Senator Elizabeth Warren's campaign is in question after she lost her home state of Massachusetts.
Biden won there, with Sanders coming in second place, with Warren third.
Facing a roaring crowd in Michigan, she called on her supporters to ignore the political pundits and predictions as her advisers insist she's willing to go all the way to a contested convention in July even if she doesn't claim an outright victory anywhere.
"Cast a vote that will make you proud. Cast a vote from your heart,'' she said. "You don't get what you don't fight for. I am in this fight."