Boeing refuses to play ball as Dutch MPs reopen 2009 crash involving 737
Comments
By Euronews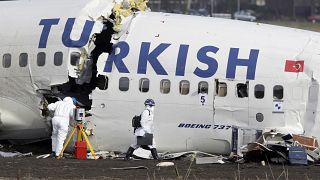 -
The Dutch parliament has moved to reopen an inquiry into a 2009 Turkish Airlines crash near Amsterdam's Schiphol Airport over concerns Boeing may not have addressed an underlying issue and pointing to similarities with recent deadly crashes.
Dutch lawmaker Jan Paternotte told Euronews that MPs are "concerned Boeing may have tried to strongarm our safety authority" at the time of the original investigation.
The Dutch Safety Board (DSB) said on Twitter that "questions have been raised" recently about the initital study released in 2010.
Nine of the 135 people onboard died when the February 25, 2009 flight from Istanbul crashed as it prepared to land at Schiphol Airport.
In a statement, the DSB noted that the 2010 report made clear that a "key responsibility for the crash lies with Boeing, giving the failure of systems on board of the Boeing 737-800 and the way that Boeing responded to earlier warnings".
But it added that the "key question" to be determined by the inquiry is whether "lessons of the TK1951 crash were sufficiently learned by Boeing and the American authorities" and whether it "should be part of the ongoing international investigation in the recent crashes of Boeing 737 Max."
Paternotte noted that it is European governments that will decide if the 737 Max is "fit to fly in European airspace" and the fact that Boeing have declined at this time to share extra data pertaining to the crash with them, doesn't fill them with confidence.
Euronews has reached out to Boeing for comment and was referred to the company's January 29 letter to the Dutch authorities in which it declined to appear in front of the Dutch House of Representatives.
It argued that the US National Transportation Safety Board (NTSB) had participated in the original investigations to "ensure that the DSB would have the support of necessary subject matter experts" and that "as a technical adviser to the NTSB, Boeing provided extensive technical support to the investigation."
It added that the NTSB "represents the United States in this state-to-state inquiry" and that as it "does not plan to participate in this roundtable and, given Boeing's role as an NTSB technical adviser, we will follow the lead of the NTSB and not attend the roundtable," it concluded.
The American manufacturer suspended production of its 737 MAX airliner last month after regulators grounded the aircraft in March 2019 following two deadly crashes.
All 157 people on board were killed last March when an Ethiopian Airlines flight crashed shortly after takeoff. The tragedy came just five months after 189 people lost their lives when their flight crashed after taking off from Indonesia.
An Ethiopian Airlines crash shortly after take-off killed all 157 people on board last March. The disaster came just five months after 189 people lost their lives when their Lion Air flight crashed after taking off from Indonesia.