Visa discloses FTC probe on debit transactions
Comments
By Reuters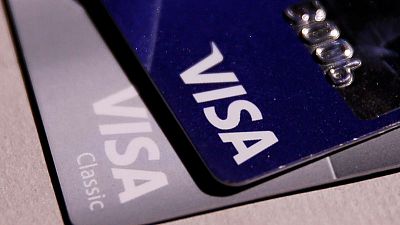 -
(Reuters) – Visa Inc <V.N> on Thursday said the Federal Trade Commision (FTC) has initiated an inquiry into whether the payments processor's actions prohibited merchants from using other debit payment networks.
Bloomberg Law reported https://news.bloomberglaw.com/banking-law/visa-mastercard-draw-ftc-inquiry-over-debit-card-transactions on Wednesday the regulator was investigating whether Visa and rival Mastercard Inc <M.N> blocked retailers from routing card transactions over alternative networks such as Pulse, NYCE and Star.
Visa in a regulatory filing https://bit.ly/2Xdju7s said it received a letter from the FTC on Nov. 4, and the company is cooperating with the bureau.
Mastercard did not immediately respond to a Reuters request for comment on Thursday.
The inquiry could spell fresh trouble for the world's two largest payments processors which settled a European Union antitrust probe in April this year over card fees.
(Reporting by Abhishek Manikandan in Bengaluru; Editing by Amy Caren Daniel)