Telecom Italia to include own fibre assets in broadband network bid
Comments
By Reuters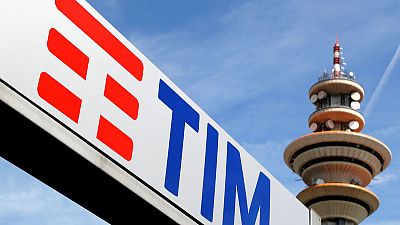 -
MILAN (Reuters) – Italy's biggest phone group Telecom Italia (TIM) <TLIT.MI> is asking infrastructure funds to come up with bids next week for the assets of smaller broadband rival Open Fibre that will include its own last-mile network, sources said.
The former monopoly is pressing ahead with plans to find one or more funds to help it buy out Open Fibre and create a national champion that can roll out a single broadband network to avoid duplicating investments.
Open Fibre, a wholesale-only fast broadband operator, is jointly owned by state-controlled utility Enel <ENEI.MI> and state lender CDP. CDP is also TIM's second-largest shareholder.
Sources said more than a dozen infrastructure and sovereign wealth funds had been invited to present non-binding offers for Open Fibre by Nov. 19.
"The idea is that the funds will present a valuation for Open Fibre which will take into account the last-mile fibre assets that TIM will fold into the company," a source close to one of the interested funds said.
The fund, or funds, are expected to buy around half of Open Fibre with TIM taking a stake of up to half though the structure is still under discussion, sources have said.
TIM did not respond to a request for comment.
One of the stumbling blocks to the creation of a single network has been how much Open Fibre is worth with analyst estimates fluctuating in a range of 1.5-4.0 billion euros ($1.65-$4.4 billion).
TIM's last-mile network – the bit that goes from the street to homes – has traditionally been copper but since 2016 it has been rolling out a fibre-to-the-home network through Flash Fibre, a joint venture with rival Fastweb <SCMN.S>
"What's clear is that TIM needs to bring its clients into play if any fast-fibre plan is to get over the line," the source said.
Rome has long been pushing for an all-fibre optic network with some state oversight to boost productivity across a country which has one of the lowest take-ups of fixed broadband in Europe.
TIM, which has net debt of 24 billion euros (£20.7 billion), owns a large part of Italy's wholesale market and has more than half the retail market.
TIMCEO Luigi Gubitosi recently said only 20-25% of TIM's ultra-broadband capacity was used by consumers and only 10-15% of Open Fibre's, raising questions over returns on investments.
Last week Gubitosi said TIM aimed to select one or more infrastructure funds for a deal with Open Fibre by year-end.
(Reporting by Elvira Pollina and Stephen Jewkes; Editing by Emelia Sithole-Matarise)