Russia seen cutting rates as inflation on track to slow - Reuters poll
Comments
By Reuters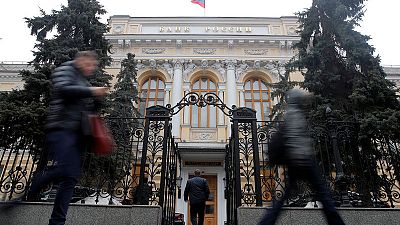 -
By Andrey Ostroukh
MOSCOW (Reuters) – Russia's central bank is now seen cutting rates in the third quarter of 2019, sooner than previously expected, as inflation is on track to slow after peaking in March, a monthly Reuters poll showed on Tuesday.
The average forecast among analysts and economists from 31 banks and companies polled in late April was for the economy to grow 1.5 percent this year, in line with official estimates. Most of the forecasts in the Reuters poll are based on at least 10 individual projections.
The central bank is expected to cut they key rate in the July-September quarter, the poll showed, reflecting a shift in market expectations. In the previous poll in late March, the central bank was expected to trim rates only in late 2019.
Market expectations changed after the central bank held its key interest rate at 7.75 percent at its April 26 meeting and signalled it could consider cutting rates as early as June given that inflation has peaked.
Annual inflation, the main economic indicator tracked by the central bank, is seen slowing to 5.2 percent in April, the poll showed, after peaking at 5.3 percent in March.
Inflation is on track to slow further, to 4.7 percent by the end of the year, and to reach the central bank's 4.0 percent target in 2020, according to the poll.
Rate cuts should be positive for the rouble as they usually spur inflows into Russian OFZ treasury bonds. Market players tend to buy into such bonds in advance as a rate cut typically drives their prices up and yields down.
"In the medium term, the Russian currency will show positive dynamics," Nordea Bank analysts said.
"The upcoming cut to the central bank's key rate will stimulate demand for Russian government bonds, which will in turn support the rouble," Nordea said.
In 12 months, the rouble is seen at 65.65 versus the dollar and at 77.58 versus the euro. The previous poll foresaw exchange rates of 66.25 and 77.50, respectively.
On Tuesday, the rouble's official exchange rates, set by the central bank, were 64.69 per dollar and 72.20 per euro, with the Russian currency under pressure in markets ahead of the country's long May public holidays.
(Additional reporting by Elena Fabrichnaya; Editing by Catherine Evans)