Russian metals tycoon Deripaska sues U.S. over sanctions
Comments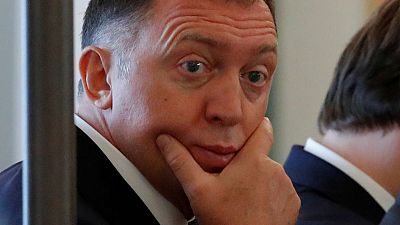 -
By Susan Heavey and Nathan Layne
WASHINGTON/NEW YORK (Reuters) – Russian tycoon Oleg Deripaska sued the United States on Friday, alleging that it had overstepped its legal bounds in imposing sanctions on his companies and made him the "latest victim" in the U.S. probe into Moscow's alleged political interference.
In a legal filing, Deripaska asked a federal court in Washington to block the U.S. Treasury Department from using the "devastating power" of such sanctions, which he claims were arbitrarily applied to him and his companies last April and violated his right to due process under the U.S. Constitution.
Deripaska, the lawsuit says, has been swept up in a "general hysteria" based on unfounded allegations about him spread by members of U.S. Congress and the news media, and set against the backdrop of Special Counsel Robert Mueller's investigation into possible collusion between Russia and the Trump campaign.
Washington dropped the sanctions on Deripaska's two main companies, Rusal, the world's largest aluminium producer outside China, and its parent En+ Group, in January after an intense lobbying campaign in which the oligarch agreed to relinquish control over his corporate empire. But Deripaska himself remains under sanctions.
Deripaska, who secured a spot among Russia's elite group of oligarchs after prevailing in the "aluminium wars" of the 1990s, said the sanctions rendered him an economic pariah shunned by business partners and banks and had erased four-fifths of his net worth.
He is seeking an order removing him from the sanctions list.
"The effect of these unlawful actions has been the wholesale devastation of Deripaska's wealth, reputation, and economic livelihood," his attorney, Eric Ferrari, wrote in the 28-page lawsuit submitted to the U.S. District Court in Washington, D.C.
When Deripaska was hit with sanctions in April, the Treasury Department's Office of Foreign Assets Control (OFAC) alleged that he and other rich and influential Russian oligarchs were profiting off their ties to Russian President Vladimir Putin and from the state's "malign activity" around the world.
Deripaska also said that he had been unfairly criticized by members of Congress, including by Senator Robert Menendez, who had called for holding off on the easing sanctions of Rusal and En+ to see if the Mueller probe turns up anything on Deripaska.
Deripaska has come under scrutiny by Mueller but has not been charged or accused of any wrongdoing in that probe.
He is of interest to Mueller because of his ties to the Kremlin and his decade-long relationship with Paul Manafort, the one-time campaign chairman for U.S. President Donald Trump who this month was sentenced to a total of seven and half years in prison in two criminal cases brought by Mueller's team.
"After all of that time spent investigating Russia's alleged activities, it is not surprising that OFAC had to rely on rumour and innuendo to designate Deripaska," the lawsuit says.
"It appears to be the case that there is simply no evidence Deripaska is involved in the Russian Government's activities."
A spokeswoman for Deripaska said he had filed the complaint against the Treasury Department in order to not let his hard work be destroyed by "political scheming." The Treasury Department declined to comment.
The assets that form the core of Deripaska's fortune were acquired during the chaotic sell-off of state-owned mines and factories in the 1990s following the collapse of the Soviet Union. The frequently violent privatisation and consolidation of the aluminium sector during this period came to be known as the "aluminium wars."
(Reporting by Susan Heavey and Meredith Mazzilli in Washington, Nathan Layne in New York and Anastasia Lyrchikova in Moscow. Editing by Rosalba O'Brien)
euronews provides breaking news articles from reuters as a service to its readers, but does not edit the articles it publishes. Articles appear on euronews.com for a limited time.