Watch live: Taxi drivers' protest for regulation in Madrid
Comments
By Euronews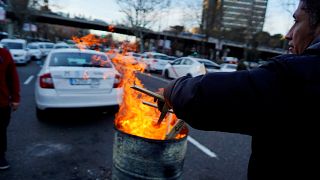 Parked taxis continued to block one of Madrid's main avenues on Monday, as part of an open-ended strike asking for regulation for the online ride-hailing sector.
The cause of the drivers' dissatisfaction is the increasing prevalence of ride-sharing apps such as Uber and Cabify.
The private services, which provide rides that often undercut taxi prices, can be hailed via the internet or on apps rather than in the street.
An estimated 2,000 taxi drivers took part in the protest on Sunday evening and they were still there on Monday morning when police moved in to withdraw the vehicles.
Riot police assisted by a group of tow trucks took several hours to clear the vehicles from Paseo de la Castellana — one of the longest and widest avenues of Madrid.
This Twitter user took a brief snapshot of the stationary cars in the early hours of Monday morning.
Stoppages were expected elsewhere in the city as the protest dragged on.
The Spanish government passed regulation in September 2018 that granted ride-hailing firms one new license for every 30 taxi licenses, with a deadline of four years to comply.
Taxi drivers are now demanding stricter rules.
Regional authorities in Barcelona last week proposed restrictions on ride-hailing services that stopped cars being booked a long time in advance and being hailed in the street.
The move put an end to a strike by taxi drivers in the Spanish capital, but some ride-hailing platforms said they may be forced out of the city should the new regulations come to fruition.