Morocco vigils honour Scandinavian women killed in Atlas Mountains
Comments
By Reuters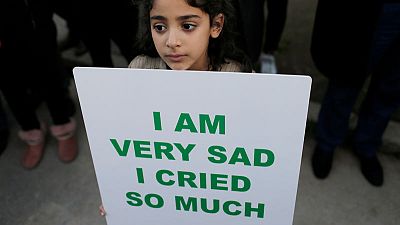 -
RABAT (Reuters) – Vigils were held on Saturday evening in Rabat to mark the deaths of two women from Norway and Denmark who were killed in the Atlas Mountains earlier this week.
Tens of participants from different political parties and civil society organisations laid flowers and lit candles in front of the Norwegian embassy and later at the Danish embassy.
They also raised placards denouncing the killing of the two Scandinavian tourists and expressing condolences and solidarity with their families.
Louisa Vesterager Jespersen, 24, from Denmark, and Maren Ueland, 28, from Norway were found dead on Monday with cuts to their necks near the village of Imlil, on the way to Toubkal, North Africa's highest peak and a popular hiking destination.
Four suspects, aged between 25 and 33 years from areas near Marrakech, have been arrested in connection with their deaths.
The four suspects pledged allegiance to IS and its leader Abu Bakr al-Baghdadi in a video made last week, Moroccan authorities said.
Nine other individuals were arrested by the Central Bureau for Judicial Investigations on Friday in various Moroccan cities over suspected connections to the killers.
(Reporting by Ahmed Eljechtimi; Editing by Richard Balmforth)