Guyanese parliament brings down government, triggering elections
Comments
By Reuters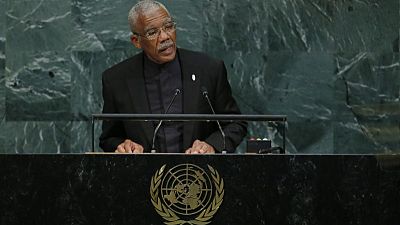 -
By Neil Marks
GEORGETOWN (Reuters) – Guyana's parliament voted late on Friday in favour of a no-confidence motion in the government, triggering new elections in March in a surprise defeat for President David Granger as he seeks to develop the nation's oil sector.
One lawmaker defected from Granger's APNU-AFC coalition, which had a one-seat majority, and sided with an opposition-led motion to cut short his term that would have ended in 2020. The Guyanese parliament had never before called a no-confidence vote.
The opposition called the no-confidence motion claiming mismanagement of the country's oil resources.
The South American nation, with no history of oil production, has become one of the world's most closely watched oil basins after Exxon Mobil discovered more than 4 billion barrels of oil in recent years
Since 1999, Guyana has awarded a group led by Exxon hundreds of oil blocks along the country's maritime borders with Venezuela and Suriname. Oil output could reach more than 500,000 barrels per day in coming years, similar to OPEC-member Ecuador.
Granger, president since 2015, has been out of the public eye since he was diagnosed with non-Hodgkin's lymphoma, a form of cancer, in October.
Prime Minister Moses Nagamootoo accepted defeat and said their coalition would return to the polls.
"This is not the end … this is just a challenge that we need to deal with," Nagamootoo told a news conference.
The opposition accused the government of taking a bad deal with Exxon, saying it had a chance to renegotiate the contract once oil was discovered but that it acceded to Exxon's "maximum demands."
"They sold our patrimony," said Bharrat Jagdeo, leader of the opposition People's Progressive Party (PPP).
Granger's government insists it got the best deal and is banking on new oil wealth to transform the economy.
(Reporting by Neil Marks; Writing by Angus Berwick; Editing by Leslie Adler)