How Climate Change is making parts of the Camargue disappear
Comments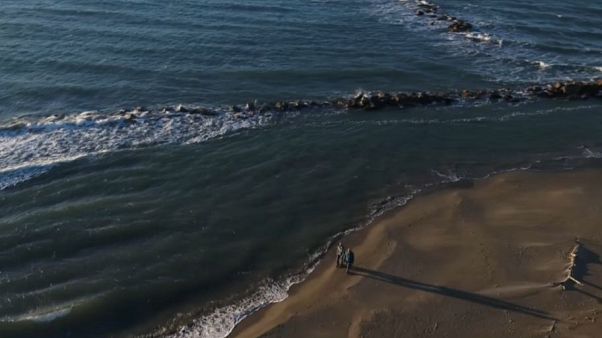 As the COP24 climate conference in Poland comes to a close, parts of Europe are facing up to the effects of climate change.
It's the case of the Camargue region of southern France. Rising sea levels mean parts of the Camargue could literally disappear underwater by the end of this century.
Famous for its wildlife and unique local culture, this low-lying wetland at the delta of the Rhone is on the planet's endangered list.
Anas Cheiron, director of the Camargue National Reserve, told Euronews her organisation won't be battling the tide "We've decided we won't fight against the erosion of the coastline, against the effects of the sea." She said. We've chosen instead to retreat, to beat a strategic retreat, and to adapt rather than to fight against the coastal erosion and the rise in sea levels." Cheiron added.
As the ice caps melt and the warming oceans expand, sea levels are now rising at an accelerating rate, up from 3mm per year to 5mm per year.
Some even project sea levels may rise by over one metre by 2100.
Not everyone agrees the sun is setting on the Camargue. The mayor of Saintes-Maries-de-la-Mer is playing down the issue. "The worry is there, we're carrying out works, everyone's talking about it, but we mustn't fall into extremes.
"We've had three centimetres in 10 or 15 years, and I'm cautious on this topic. We mustn't stress out the local population of Saintes or the Camargue, we should react in a way that you might describe as 'normal', because one metre of sea level rise, excuse me, that's a lot!"
Scientist Anis Guelmami uses data from the European Sentinel fleet of Earth observation satellites to study coastal wetlands like the Camargue, and warns it's not only this area that's concerned by rising sea levels."The Mediterranean will probably be one of the regions of the world where climate change hits the hardest. It's one of the most densely populated coastal areas in the world, because it has a low tidal range, and so the population has had a tendency to live close to the coast. And this is going to have a serious impact on their activities.
With the Rhone now delivering less and less silt due to upstream dams, and the sea level rising every year, the Camargue has already seen parts of its coastline pushed back several hundred metres in 30 years. The effects of climate change may be subtle, but they're measurable, and they're becoming more intense.