Exclusive: Ghosn wanted to retrieve cash, artwork from Rio apartment - court filing
Comments
By Reuters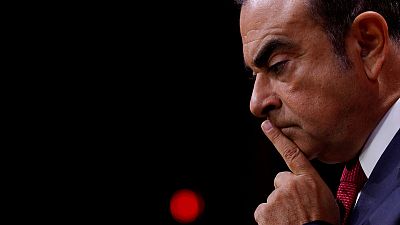 -
By Marcelo Rochabrun and Ritsuko Ando
SAOPAULO/TOKYO (Reuters) – Ousted Nissan <7201.T> Chairman Carlos Ghosn sought to retrieve "personal belongings, documents, cash, objects and art pieces" from a Rio de Janeiro apartment that the carmaker says could contain evidence of financial misconduct, according to a Brazil court filing by Nissan last week.
The previously unreported court papers show the extent of the legal dispute between Ghosn and Nissan over access to the apartment, one of several the former executive had access to around the world. Ghosn is accused of underreporting his income by tens of millions of dollars.
The Rio apartment, which the carmaker says it owns, contains three safes that Nissan has yet to open, according to the filing. The carmaker said it found the safes when it did an audit of the apartment following Ghosn's firing. It added the apartment also has "designer furniture, artwork and decorative objects."
The court proceedings started Nov. 29 when a lawyer for Ghosn asked a judge to grant him access to the apartment, which Nissan says belongs to the company.
Nissan says granting Ghosn access to the apartment would "represent an incalculable risk of destruction of potential evidence of crimes allegedly committed." Ghosn has so far been denied access by Brazil's courts.
A lawyer for Ghosn, Jose Roberto de Castro Neves, told Reuters he was unaware of the existence of three different safes and that it was "absurd speculation" that they may contain evidence of wrongdoing.
"He's a very smart guy," de Castro Neves said in a brief phone interview. "If he had done something wrong, he would never leave it in the apartment."
Tokyo prosecutors on Monday indicted Ghosn for under-reporting his income and also officially charged the automaker, making the company culpable for the financial misconduct scandal, which has shocked the industry. Ghosn is being held in a Tokyo jail.
(Reporting by Marcelo Rochabrun; Editing by Jeffrey Benkoe and Steve Orlofsky)