Japan firms see trade war, sales tax pressuring economy in 2019 - Reuters poll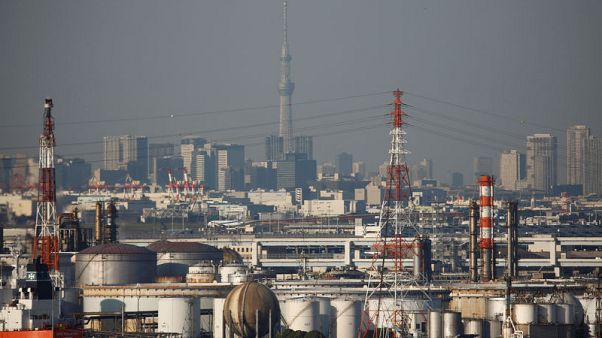 -
By Tetsushi Kajimoto
TOKYO (Reuters) – Most Japanese firms expect flat or weaker domestic growth next year and are even more pessimistic about global growth amid concerns over the impact of the U.S.-China trade war and a planned sales tax hike at home, a Reuters poll showed.
"There's no doubt the sales tax increase will put a damper on private consumption," a manager of a manufacturing company wrote in the survey. "We're very concerned."
Japan's export-driven economy, which hit a rough patch in the most recent quarter, has generally been chugging along. And Tokyo stocks are set to notch a seventh straight year of gains since Prime Minister Shinzo Abe came to office in late 2012.
But in a sign that growth may be levelling off, the Reuters Corporate Survey found 55 percent of companies predicted that Japan's economic growth would remain about the same as this year's 1 percent projection, while 31 percent see it slowing. Only 14 percent believe it will accelerate.
The Sino-U.S. trade war and a planned sales tax increase in October to 10 percent from 8 percent currently were considered two major risks to their growth outlook. Others saw Japan-U.S. trade negotiations, capital flight in emerging markets and geopolitical issues in the Middle East, as risks to growth.
"We worry that China-based Japanese companies may curb capital spending out of concerns about earnings," wrote a construction company manager.
"If something goes wrong with the Chinese economy, it would cause spillover effects to Europe and Southeast Asia, which would in turn have a big impact on the global economy," a manager of an electric machinery maker wrote in the survey.
The outlook on next year's global growth was even more pessimistic, with 51 percent of companies expecting it to undershoot this year's 3.7 percent forecast by the International Monetary Fund, the Nov. 20-Dec. 3 survey showed.
Some 39 percent believe global growth will hold steady next year, while just 10 percent say it will accelerate.
The survey, conducted monthly for Reuters by Nikkei Research, polled 480 big- and medium-sized firms with managers responding on condition of anonymity. Around 230 answered the questions on growth outlook.
FOREIGNWORKERS
More than three-quarters of companies welcome steps the Abe government is taking to open the door to more foreign blue-collar workers, the poll showed.
Immigration has long been taboo as many Japanese prize ethnic homogeneity, but the reality of an ageing, shrinking population is challenging such views. Still, most of these workers won't be allowed to stay in Japan permanently under a draft bill being debated in parliament.
Although foreign workers are generally viewed as cheap labour here, nearly three-quarters of companies said the proposal won't drive down wage levels, while 29 percent anticipate lower pay.
Some 55 percent of firms agreed with Abe's aim of accepting up to 340,000 more foreign workers over the next five years, a quarter called for lowering the target and 20 percent urged more increase, the survey showed.
In written comments, proponents of the revised law cited labour shortages as a reason and called for improving social infrastructure to accept foreigners, while opponents voiced worry about disruption of public order by letting them in.
"Foreign workers are needed for the '3 Ds'," said a ceramics maker manager, referring to demanding, dirty and dangerous work.
"It's true resolving labour shortages is critical, but the problem is the government has not presented a long view on immigration policy," wrote a construction company manager, who voices opposition to the revised law.
(Editing by Malcolm Foster and Jacqueline Wong)
euronews provides breaking news articles from reuters as a service to its readers, but does not edit the articles it publishes. Articles appear on euronews.com for a limited time.