Norwegian Air struggles to fill planes as fleet grows
Comments
By Reuters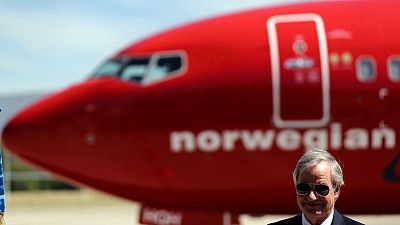 -
By Ole Petter Skonnord and Terje Solsvik
OSLO (Reuters) – Budget carrier Norwegian Air <NWC.OL> struggled to fill its aircraft in November as capacity growth far outpaced demand, while a loss on fuel hedge contracts added to the airline's woes, sending its shares down 9 percent on Thursday.
The company, which has been courted by British Airways owner IAG <ICAG.L>, has ramped up its transatlantic business but has also said that growth will slow as it prioritises profitability over expansion.
"Several of our summer routes have been extended into November, which has affected the load factor," Chief Executive Bjoern Kjos said in a statement.
"A full transition into the winter programme will take place early next year, once the busy holiday season is behind us."
While the airline's capacity grew 34 percent year-on-year in November, revenue-generating passenger kilometres increased by 26 percent, its monthly traffic report showed, lagging a forecast of 33.7 percent in a Reuters poll of analysts.
The load factor, a measure of how many seats are sold on each flight, fell to 78.8 percent for the month, the lowest since May 2014. That fell short of a forecast of 82.7 percent and was down from 83.7 percent a year ago.
"Overall, we find the traffic figures to be soft," Danske Bank analyst Martin Stenshall, who has a 'sell' recommendation on the stock, wrote in a note to clients.
While the recent fall in crude oil prices will eventually bring down fuel costs, the company is expected to first book substantial losses from hedging positions it entered into at higher prices, Pareto Securities said.
For the first two months of the fourth quarter, Norwegian estimated a loss from fuel hedging amounting to 1.46 billion Norwegian crowns (134.07 million pounds), although the full quarterly loss will only be calculated at the end of December.
On the positive side, the company's November yield, a key measure of revenue per passenger carried and kilometres flown, was unchanged year on year at 0.33 Norwegian crowns. Analysts had expected it to ease to 0.32 crowns.
"Keep in mind that November is a transition month from summer to winter programme and (that) demand will restore," brokerage Pareto said, reiterating a 'buy' recommendation.
Norwegian's shares were down 8.2 percent lower at 195.7 Norwegian crowns at 0932 GMT, against a 2.1 percent drop for the Oslo benchmark index <.OSEBX>.
(Editing by Mark Potter and David Goodman)