Katowice COP24 Notebook: 'Ill-thought out' taxes fuel protest
Comments
By Reuters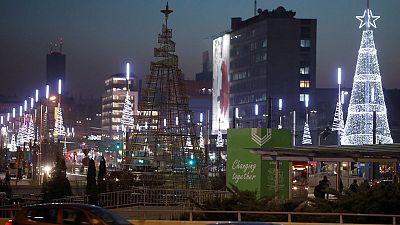 -
KATOWICE, Poland (Reuters) – Talks billed as the most important U.N. conference since the Paris 2015 deal on climate change have begun in the Polish city of Katowice, the capital of the Silesian mining district.
The aim is to meet an end-of-year deadline for agreeing a rule book on how to enforce global action to limit further warming of the planet.
Below is a flavour of the mood around the event, held in a sprawl of temporary passageways and meeting rooms next to the "Spodek", a flying-saucer-shaped sports and concert venue.
THURSDAY
0800 GMT
Dozens of young people waved placards as the delegations trooped in for another day of negotiation.
Shouting "Involve Us Now" and "Young Way", they demanded seats on all official delegations. Some countries, such as Scandinavian and Pacific states, have youth members, but the decision is up to individual governments.
0700 GMT
St Nicholas's Day, when Polish children wake up to stockings full of presents and the old mine shafts of Katowice are covered in Christmas lights glowing with coal-fired power.
The stocking-filler in France was the decision of President Emmanuel Macron's government to scrap a fuel tax because of protests.
WRONGKIND OF TAX, RIGHTIDEA
Delegates at the conference on the whole did not welcome the news as many support the principle of taxes on carbon and on fossil fuels to favour the transition to renewable energy.
They said the tax was poorly thought-out because it exaggerated the divisions between rich and poor, town and country, as those living in rural communities would be disproportionately affected.
"The situation in France is an example of what happens when the much needed transition to a low-carbon world happens in a disorderly manner," said Christian Aid Head of Policy Alison Doig.
She said governments should ensure carbon taxes were used to "smooth the transition and ensure it does not become a political pawn".
EASIERSAIDTHANDONE
Michal Kurtyka, the Polish politician who is leading the Katowice talks, took the view that the "polluter pays" principle is easier said than done:
"In my opinion, the problem is not in the principles, it is rather a problem at the level of implementing such a policy in the spirit of dialogue and understanding with people."
(Reporting by Barbara Lewis, Anna Koper, Wojciech Zurawski and Megan Rowling; Editing by Kevin Liffey)