Italy's League resisting large cut to 2019 deficit goal - sources
Comments
By Reuters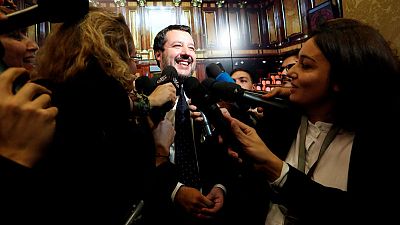 -
By Giuseppe Fonte and Gavin Jones
ROME (Reuters) – Italy's ruling League party will accept only a minor reduction to next year's budget deficit target, senior party sources said on Thursday, conceding little to Brussels, which says the plan breaks European Union public finance rules.
Italy's case for an expansionary budget has been strengthened by recent concessions to protesters in France, where League officials say the deficit will now exceed EU limits next year. France's flouting of the rules will make it harder for Brussels to continue to target Rome, they said.
The European Commission has rejected Rome's draft budget, which says the deficit will rise to 2.4 percent of gross domestic product next year from 1.8 percent this year. Brussels says it breaks previous commitments to reduce borrowing and will not lower Italy's large public debt.
After weeks of confrontational rhetoric, Italian ministers and the Commission have recently softened their tone and said a compromise needs to be found.
However, the right-wing League is unwilling to lower the deficit target below 2.2 percent and its coalition partner, the anti-establishment 5-Star Movement, is only slightly more flexible, five government and coalition sources said.
5-Star is against a deficit as low as 2.0 percent of GDP, but could consider 2.1 percent, said the sources, who declined to be named because of the delicate and market-sensitive negotiations in progress with Brussels.
"We should accept nothing below 2.2 percent, and only if the Commission agrees to drop all disciplinary steps against us," said one League source close to party leader Matteo Salvini.
The Commission has prepared a so-called "excessive deficit procedure" against Italy, which could eventually lead to fines. European Commission Vice President Valdis Dombrovskis has said only "substantial adjustments" would end the standoff.
The situation in France, where violent protesters have forced Paris to cancel fuel-tax hikes, will make Brussels less willing to seek confrontation with other EU capitals and will also mean France's deficit next year will likely be above the EU's 3 percent ceiling, two League sources said.
Brussels should be wary of being seen promoting austerity at a time of rising social tensions, they said.
As Italy's talks proceed both with Brussels and within the ruling coalition, a 5-Star government source said a 2.1 percent target could be "a good compromise" but added that "Salvini is insisting on no less than 2.2 percent".
Salvini on Thursday denied reports the government would delay implementation of costly budget measures next year, which would lower overall spending in 2019, and said if any savings can be found in the budget they should be ploughed into other growth-boosting measures.
"We have nothing to give to (European Commission President Jean-Claude) Juncker; we have to answer to the Italians," he said in an interview on RAI state radio.
It may be difficult for the Commission to accept such a small shift.
Italy's previous centre-left government, ousted after an election in March, had pencilled in a 0.8 percent target for next year and pledged to reduce the so-called structural deficit, adjusted for growth fluctuations and one-off items, by 0.6 percent of GDP.
The new government's budget increases the structural deficit by 0.8 percent, according to its own calculations.
However, Rome can point to weakening economic prospects in Italy and Europe, which the government says bolster the case for an expansionary, growth-oriented budget to avert recession.
A goal below 2.2 percent would be "an economic and political mistake" one of the League sources said, because, with economic prospects weakening, it would make it harder to maintain a downward deficit trend in future years.
(Reporting by Giuseppe Fonte and Gavin Jones, editing by Steve Scherer)