German transport minister opposes fuel tax to clean up diesel
Comments
By Reuters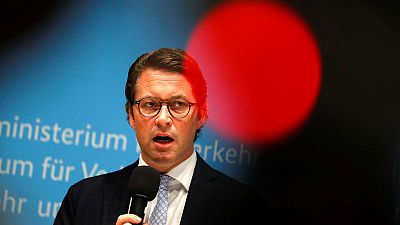 -
By Markus Wacket and Andrea Shalal
BERLIN (Reuters) – Germany's transport minister said on Wednesday he opposed a fuel tax on diesel to encourage a shift towards cleaner vehicles but manufacturers should speed up their push to get polluting cars off the road through incentives for customers.
The German government has agreed to reduce emissions from the transport sector by 40 percent but it remains unclear how the goal will be achieved.
Andreas Scheuer, a member of the CSU Bavarian conservatives, said he favoured a system of incentives to reduce carbon dioxide emissions rather than using a tax on carbon-based fuels, like the one favoured by the Social Democratic environment minister.
"I oppose taxes and additional burdens," he told Reuters.
German carmakers last month agreed to offer up to 3,000 euros ($3,400) per car to help Germany clean up toxic fumes from heavily polluting diesel vehicles as part of a last ditch effort to avoid a court imposed ban on diesel vehicles.
"The manufacturers have to deliver," Scheuer said in an interview. "I hope that the pressure in the market leads to improvements for the diesel owners … The government can't impose it, but it's clear the German manufacturers would be well-advised to win back the trust of the domestic market."
Scheuer also faulted the industry for lacklustre progress on developing alternative propulsion systems, such as electric cars, despite the fact that the government had spent around 5.2 billion euros on such programmes.
"Too little has happened there," he said. "The customers need functioning vehicles and not studies, and not pilot programmes that can be shown off at car shows."
Car owners can trade-in older vehicles for cleaner newer ones, or opt for cumbersome retrofits of more effective exhaust filtering systems at a later stage.
The global reputation of Germany's car industry has been tarnished by a series of scandals involving schemes to conceal the true levels of pollutant emissions from diesel cars.
The government has been pushing German carmakers – Volkswagen <VOWG_p.DE>, Daimler <DAIGn.DE> and BMW <BMWG.DE> – and foreign manufacturers to take quicker action to get polluting cars off the road.
He said many Asian manufacturers were moving ahead far more quickly to build large numbers of alternative vehicles, while German firms were still building just small numbers.
($1 = 0.8827 euros)
(Reporting by Andrea Shalal; editing by David Evans)