Itaú and StanChart launch blockchain platform for loans in Latin America
Comments
By Reuters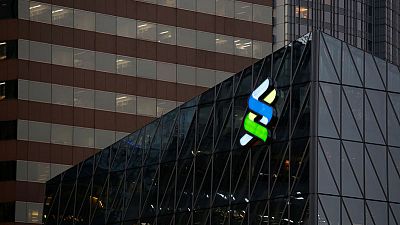 -
By Carolina Mandl
SAOPAULO (Reuters) – Banks Itaú Unibanco Holding SA <ITUB4.SA> and Standard Chartered <STAN.L> have partnered to develop a blockchain-based platform for small syndicated loans, both companies said on Monday in a statement.
This platform is the first to go live in Latin America for so-called club loans, a kind of syndicated loan with a smaller group of lenders.
It represents the latest in a series of efforts by banks to take advantage of blockchain, a shared digital record of transactions that is maintained by a network of computers rather than a centralized authority.
The use of blockchain in the banking industry is expected to reduce the risk of fraud in financial transactions, as well as cut down complexity and costs, the banks said.
Spain's BBVA <BBVA.MC> said in June it was moving to the testing phase of a project aimed at using blockchain technology on syndicated loans and in April become the first global lender to arrange an end-to-end corporate loan using blockchain technology. [nL8N1WD5EC]
Brazil's largest private lender Itaú Unibanco raised $100 million with Standard Chartered and Wells Fargo & Co <WFC.N> in a club loan to test the platform.
Ricardo Nuno, Itaú's treasury managing director, said the banks negotiated all the loan terms through the blockchain-based platform, but did not transfer the money, although he said the platform could do so in the future.
Nuno, who said Itaú was also considering using the platform for client loans, added that the platform helped the banks cut legal costs and reduced the number of messages exchanged between the parties, usually around 2,000 e-mails.
Germana Cruz, Standard Chartered's head of financial institutions for Latin America, said the bank may use the experiment in Brazil in new deals in Latin America.
The transaction was executed on a platform called Corda, which was developed by R3, a New York-based startup focused on developing blockchain technology for the finance industry.
In spite of the euphoria around blockchain-based technology, many financial institutions have set aside blockchain projects for reasons from costs to industry readiness, a Reuters report found earlier this year. [nL1N1R90QJ]
(Reporting by Carolina Mandl; Editing by Christian Plumb and Frances Kerry)