UEFA approve new European club competition from 2021
Comments
By Reuters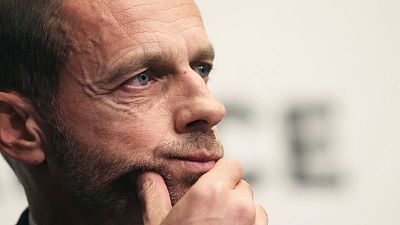 -
(Reuters) – European football's governing body approved the creation of a third-tier UEFA club competition on Sunday, a tournament which will mirror the current Champions League and Europa League format from 2021.
At their meeting in Dublin, UEFA's Executive Committee finalised plans to introduce the event, with the working title 'UEL2', in the 2021 to 2014 competition cycle.
It will ensure that at least 34 countries will be represented in UEFA club competitions, compared to today's total of 26.
"The new UEFA club competition makes UEFA's club competitions more inclusive than ever before," UEFA President Aleksander Ceferin said.
"There will be more matches for more clubs, with more associations represented in the group stages. This competition was borne out of ongoing dialogue with clubs through the European Club Association."
The format will see eight groups of four teams, followed by the round of 16, quarter-finals, semi-finals and final. Like the Europa League, matches will be played on Thursday.
An additional knockout round will be played before the round of 16 between teams ranked second in their groups and the third-ranked teams in the groups of the Europa League, which will run concurrently.
The new competition will feature 141 matches over 15 match weeks, exactly like the Europa League. The winner of the new competition will be entitled to participate in the Europa League in the following season.
(Reporting by Peter Hall; Editing by Ian Chadband)