German conservative Merz urges tax relief for retirement investments
Comments
By Reuters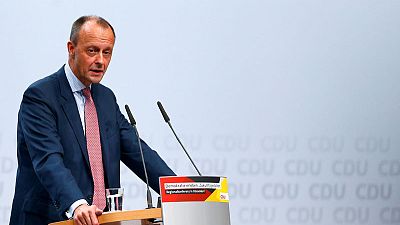 -
BERLIN (Reuters) – Businessman Friedrich Merz, who is running to succeed Chancellor Angela Merkel as leader of the Christian Democrats (CDU), said Germany should waive taxes on retirement-focused equity investments to boost the capital assets of German workers.
Merz, a long-time Merkel rival who promises more radical change, is running behind CDU general secretary Annegret Kramp-Karrenbauer, a close ally of the chancellor, in German polls.
The outcome of the vote for a new leader at a party congress on Dec. 7-8 is crucial not only for the CDU, which governs in a three-party coalition, but also for the future of one of the main members of the European Union and its biggest economy.
Merz told the Welt am Sonntag newspaper that offering a tax-free threshold for equity investments would help workers bolster their retirement savings.
"One possibility would be a yearly tax-free allowance, which one could use to build up an equity-based savings plan that would not face additional taxes in the future," he told the newspaper.
He said the federal budget included over 100 billion euros to stabilise pensions and should be able to weather the lost revenue associated with waiving taxes on certain retired-pegged investments.
Merz said Germany should use equity markets to help German workers bolster their capital assets and allow more people to buy their own homes.
"It is important to tie workers closer to the capital markets," he said. "In this regard, Germany is like a developing country. We should use the equity markets to create longer-term better wealth and capital creation."
Merkel remains chancellor but whoever takes over the CDU is likely to be its candidate in the next federal election, due by October 2021.
Merkel's conservatives and their Social Democrat (SPD) junior coalition partners in August agreed to reduce paycheck contributions toward the unemployment insurance system by 0.5 percentage point to 2.5 percent starting in 2019.
The coalition partners plan to stabilise pensions at 48 percent of the average wage by 2025.
(Reporting by Andrea Shalal; Editing by Hugh Lawson)