Georgian president-elect takes strong line towards Moscow after contentious vote
Comments
By Reuters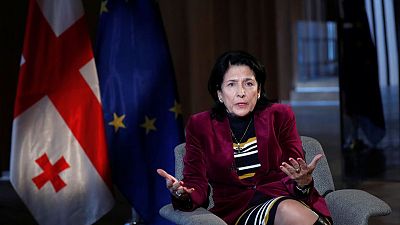 -
By Margarita Antidze
TBILISI (Reuters) – Georgia's new President-elect described Russia on Saturday as an unpredictable occupying power, staking out a tough line towards Moscow as she faces protests at home from opponents who accused her of being soft on Russia during the campaign.
Salome Zurabishvili, who has the backing of the ruling Georgian Dream party, won 59.5 percent of the vote in Wednesday's runoff. Her defeated opposition rival Grigol Vashadze has said he does not recognise her victory and has called for peaceful demonstrations on Sunday.
In an interview with Reuters on Saturday, Zurabishvili said there could be no point in any negotiations with Russia until it recognises that it is occupying two breakaway Georgian regions.
Russia was an "occupying power", and the biggest concern was "that it's unpredictable", she said.
"When you have an enemy that is known and predictable you know what will be your next steps. In this case, to be very frank, I don't know what should be the next steps of Georgia in relations with Russia. It is so unpredictable and so overly present on our territory."
Zurabishvili, who was born in France to a family of Georgian émigrés, served as a French career diplomat before becoming Georgia's foreign minister from 2004-2005, and will now be her country's first female head of state.
Under a revised constitution, the presidency is now largely ceremonial and the prime minister and government wield most executive power. But the position is still seen as important as the international face of the country, which aims to secure better relations with the West to counter Moscow's influence.
Russia fought and won a brief war against Georgia in 2008, after which Moscow recognised the independence of two Georgian breakaway regions, South Ossetia and Abkhazia. Russia now garrisons troops in the two regions.
Moscow's role dominates Georgia's domestic politics, with rival parties accusing each other of being insufficiently firm in confronting it. In the run-up to the vote, Zurabishvili was criticised by opponents for comments that appeared to blame Georgia for causing the 2008 war.
Georgia is an ally of the United States in the South Caucasus region, and houses pipelines carrying Caspian oil and gas to Europe. It aims to join NATO one day.
Zurabishvili said she wanted Georgia to be seen "not only through the Russian prism", but as an ancient country that had a lot to offer to the rest of the world. Raising its profile on its own would in turn help Georgia counter Russia.
"To make Georgia more present is also a way to make Russia less influential in our relations with European partners," she said. "I'm convinced that we can ask much more from our European partners … and I intend to be a more demanding partner for Europeans as well as for our NATO partners."
Zurabishvili said she would aim to use her new role to reconcile Georgia's divided society, but said the opposition's call for people to refuse to recognise the results of the election served Russia's interests.
"That's exactly what Russia would have wished for – to have a very divided and very weakened country and a discredited president whose legitimacy is under attack," she said.
(Editing by Andrew Osborn and Peter Graff)