December blizzard of risk events for markets
Comments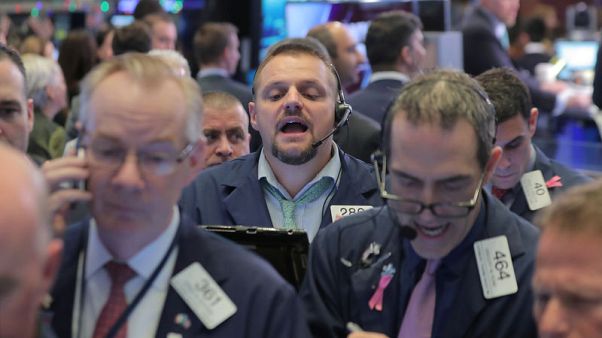 -
By Ritvik Carvalho
LONDON (Reuters) – This year has been a bumpy one for global financial markets, but before investors can turn their attention to 2019 they must first get through December, which is packed full of event risks.
The following graphics show the calendared and unscheduled events in December and their significance for world markets.
For a graphic on December blizzard, see – https://tmsnrt.rs/2Q5POJ2
DEC 1: TRUMP-XI MEETING AT G20 SUMMIT
For a graphic on Hoping for a trade truce: U.S, China stocks, see – https://tmsnrt.rs/2Q7QJc3
A summit of the world's top economies opens on Friday with leaders having to deal with the fallout of a U.S.-China trade war and bracing for any more divisive geopolitical drama on the international stage.
All eyes will be on the planned meeting between U.S. President Donald Trump and Chinese President Xi on Saturday to see whether they can find a way to resolve their differences over trade.
DEC 4: EUROPEANCOURT OF JUSTICERULING ON ARTICLE 50
The advocate general of the European Union's top court will give his opinion on Dec 4 as to whether Britain can unilaterally reverse its decision to leave the EU, the court said.
The European Court of Justice (ECJ) held an urgent hearing in a case about whether Britain can revoke its notice to withdraw from the EU under Article 50 of the Lisbon Treaty without the agreement of the other 27 states.
British Prime Minister Theresa May has ruled out any second referendum on the issue, and the lawyer for the British government called on the ECJ not to get involved in domestic politics and to dismiss the case as hypothetical.
DEC 5: FED'S POWELLCONGRESSIONALTESTIMONY
U.S. Federal Reserve Board Chairman Jerome Powell will testify on the outlook for the economy before the congressional Joint Economic Committee on Dec 5.
Markets will be watching to see if the Fed Chair sticks to his message earlier this week that the central bank was "just below" estimates of a 'neutral' interest rate.
On their face, the comments were a reversal from early last month, when Powell said the key interest rate was probably still a "long way" from a so-called neutral level and that the Fed might even tighten policy beyond that level.
For a graphic Federal Open Market Committee Projections, see – https://tmsnrt.rs/2Q5CCUO
DEC 6-7: OPECMEETING
The Organisation of the Petroleum Exporting Countries and its allies will gather in Vienna for a meeting on Dec 6-7.
Russia is becoming increasingly convinced it needs to reduce oil output in tandem with OPEC but is still bargaining with the producer group's leader, Saudi Arabia, over the timing and volume of any reduction, two industry sources told Reuters.
Both international oil benchmarks, North Sea Brent <LCOc1> and U.S. light crude <CLc1>, had their weakest month for more than 10 years in November, losing 28 percent and 30 percent respectively as global supply has outstripped demand.
For a graphic on Oversupply weighs on oil prices, see – https://tmsnrt.rs/2Q3XjAn
DEC 11: UK PARLIAMENTVOTES ON BREXIT
British Prime Minister Theresa May must win a vote parliament on Dec 11 to get her Brexit deal approved or risk seeing British politics and Brexit itself descend into chaos four months before the country is due to leave the bloc.
To try to get that approval, May and her ministers will spend five days debating the issue in parliament, where they will have to overcome opposition from across the political spectrum, and defeat attempts to alter or delay her Brexit process or derail it altogether.
For a graphic on Brexit breakthrough for pound?, see – https://tmsnrt.rs/2Q5CMLU
DEC 13: EU SUMMITANDEUROPEANCENTRALBANKPOLICYMEETING
The final EU summit of the year will be held on Dec 13-14, and the European Central Bank will also meet for the last time this year.
The ECB plans to end its 2.6 trillion euro ($3 trillion) bond purchase scheme next month, arguing that inflation is now well on its way to target and the euro zone economy will continue to expand even with reduced support.
For a graphic on The ECB's QE, see – https://tmsnrt.rs/2Q5CUem
But it also expects to maintain an oversized balance sheet for years to come and interest rates at record lows at least through next summer to keep monetary policy highly accommodative for an extended period.
The bank will next meet on Dec. 13, and investors expect it to reaffirm its policy stance and to detail how it will use cash from maturing bonds to keep borrowing costs low.
DEC 19: U.S. FEDERALRESERVEPOLICYMEETING
At the Fed's Dec 18-19 meeting, where it is expected to raise its main target interest rate to 2.25 to 2.5 percent, officials will update their projections on expected rate increases for 2019. Currently they foresee three quarter-point hikes.
For a graphic on 2018's final rate hike?, see – https://tmsnrt.rs/2Q2vlFl
TBD: CHINAINTERESTRATECUT?
China could cut its benchmark lending rate in the coming weeks for the first time since October 2015 after a series of other policy measures to channel cash into smaller private firms and priority economic sectors failed to spur credit growth. Since the People's Bank of China doesn't have a schedule for policy meetings or announcements, it's tough to predict the timing of any rate cut but market participants reckon it could happen right after the G20 or in the final days of the year.
(Reporting by Ritvik Carvalho; additional reporting by Vidya Ranganathan in Singapore; Editing by Hugh Lawson)
euronews provides breaking news articles from reuters as a service to its readers, but does not edit the articles it publishes. Articles appear on euronews.com for a limited time.