U.N.'s Egeland says Syria shows perils of targeting 'terrorists'
Comments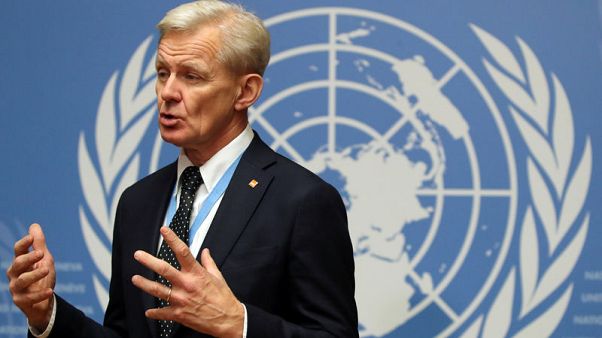 -
By Tom Miles
GENEVA (Reuters) – Governments must never again use fighting terrorism as a pretext to flatten cities and stoke war as they did in Syria, Jan Egeland told Reuters on Thursday as he stepped down from his role as the U.N. humanitarian adviser on Syria.
Syria's war should never have been allowed to spiral out of control, but after the missed opportunity of Kofi Annan's 2012 peace plan, the war worsened and the belligerents blamed "terrorism" for tactics that broke the rules of war, he said.
"Too many said that since we're fighting terrorists we're allowed to smash the whole place – to me that is a violation of every humanitarian principle," Egeland said. "The war on terror needs to be reexamined."
Branding all opponents as terrorists made it harder to negotiate, to do humanitarian work and to protect civilians. But Russia, the United States, Turkey, the Gulf countries, Iran and Israel all claimed to be fighting terrorism, Egeland said.
"They're in some sort of a power play and … many of them seem then to think they do not need to follow humanitarian law of armed conflict as they would in normal cases because they're fighting such despicable terrorists."
Syrian cities had been levelled like the World War Two battlegrounds of Dresden and Stalingrad. But a widow with five children in Syria's rebel-held city of Idlib should not be killed just because terrorists had moved in next door, he said.
"She should be helped."
Egeland said although humanitarian workers had managed a huge aid operation, they had failed to shield civilians.
Syria's seven years of war, in which hundreds of thousands have died, has been accompanied by a faltering U.N. peace process that has achieved nothing despite having unanimous support from the U.N. Security Council.
Egeland said the big battles in most parts of Syria were over, but peace would not follow without reconciliation between Syrians and between the rivals involved in proxy wars, such as Saudi Arabia and Iran, Turkey and the Kurds, Iran and Israel, the United States and Russia.
"There has to be an understanding that, listen, we played with a powder keg here, it went off, the civilians paid an enormous price, we learn from this now and we work together to build reconciliation."
The people who did the killing should be not escape justice, but they all had sponsors, Egeland said.
"There was never a lack of arms, never a lack of military supplies, never a lack of cheerleaders on either side."
(Editing by Matthew Mpoke Bigg)
euronews provides breaking news articles from reuters as a service to its readers, but does not edit the articles it publishes. Articles appear on euronews.com for a limited time.