EU states battle over higher junior debt requirement for large banks
Comments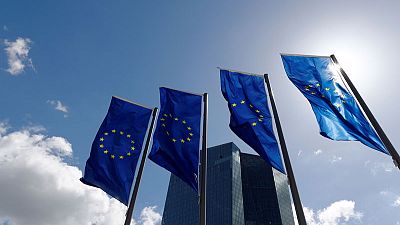 -
By Francesco Guarascio
BRUSSELS (Reuters) – European Union finance ministers could next week approve a broad reform of EU banking rules that set the level of buffers banks must raise to absorb losses, but states remain divided over the amount of subordinated debt large lenders should issue.
The possible agreement at the Dec. 4 Ecofin meeting would come after two years of talks on a reform that would adapt EU rules on capital requirements to agreements reached at global level with United States and Japanese regulators.
But the final deal is still conditional on a compromise over the amount of subordinated debt big banks would be required to issue under the new rules.
That junior debt would be wiped out if a lender is in trouble, to avoid taxpayers footing the bill of banking rescues as it happened after the 2007-08 global financial crisis.
However, with investors increasingly worried of the stability of banks in the bloc's high-debt countries, like Italy and Greece, the cost of issuing junior debt could grow prohibitive for some lenders.
In its latest issuance, Italy's top bank UniCredit <CRDI.MI> paid a hefty interest on a $3 billion, five-year subordinated bond sold to Pacific Investment Management Co (Pimco), two sources said on Wednesday.
Italy is among EU states who want subordinated debt to be set at a maximum of 27 percent of total risk-weighted assets held by large and systemic banks, such as Unicredit or Deutsche Bank <DBKGn.DE>.
But northern European governments, led by Germany, call for a 30 percent binding cap, two EU officials told Reuters on Thursday.
Currently, the subordination requirement is not binding.
The European Parliament, which has also a say on the matter, supports the lower requirement at 27 percent, although it has agreed the cap would be "discretionary".
"This means that the resolution authority can require an even higher level of subordinated debt if it is justified," said Gunnar Hoekmark, the EU lawmaker in charge of the issue.
An official for the Austrian presidency of the EU said he was "confident" a compromise could be reached on Tuesday by finance ministers.
But in a sign that the issue remains highly controversial, diplomats are not expected to solve the matter before the ministerial meeting as it usually happens for technical dossiers.
BADLOANSALES
If ministers failed to reach a compromise on the subordinated debt, the approval of the whole legislative package would be delayed.
Among the measures that could be stuck is a rule to facilitate large disposals of bad loans.
Under a draft compromise, seen by Reuters, banks which sell more than 20 percent of their non-performing loans (NPLs) could face lower capital requirements to offsetting the losses caused by the resulting downwards revaluation of their assets.
The easier terms, meant to favour the offloading of a 800-billion-euro (711.75 billion pounds) pile of soured loans still burdening EU banks, would be possible from Nov. 23, 2016, – which is when the EU Commission published its banking reform proposal – until three years after the new rules enter into effect, the document shows although key dates and figures remain between brackets and could be changed.
Another reform at risk is the freeze of deposits at failing banks. EU lawmakers have agreed to allow this "moratorium" for a maximum of "two business days" at banks being wound down.
Under a preliminary compromise, insured savings below 100,000 euros and deposits of small firms could also be frozen, although "certain payments" could be authorised, the EU document says.
The measure is meant to prevent bank runs at failing lenders and give authorities the time to find a buyer for an ailing bank or sell its assets.
Critics have however said the measure could further reduce consumers' trust on banks and in the worst cases trigger a liquidity crisis and even bank runs.
(Reporting by Francesco Guarascio; Editing by Alison Williams)
euronews provides breaking news articles from reuters as a service to its readers, but does not edit the articles it publishes. Articles appear on euronews.com for a limited time.