Greek workers strike, seeking higher wages, tax cuts
Comments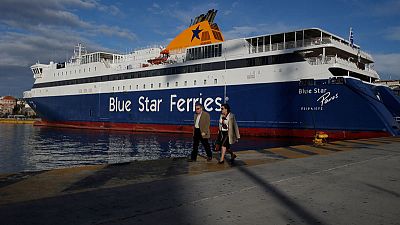 -
ATHENS (Reuters) – Public transport was disrupted and ships remained in ports as Greek workers went on strike on Wednesday, seeking increases in minimum wages and the re-introduction of collective bargaining.
Greece's biggest private-sector union, GSEE, called the 24-hour walkout, demanding tax cuts and a rise in the minimum wage, which was slashed under the terms of the country's three international bailouts since 2010, which ended in August.
Morning rush-hour traffic turned to frustrating bottlenecks on busy Athens avenues, with traffic crawling to a halt.
"This is the silence of the lambs," said construction worker Christos Valentis, stuck in his van as Syngrou Avenue, one of the main thoroughfares of the capital, looked like a huge parking lot near the city's centre.
Asked why he did not stay home, he said: "Got to get the job done, got to feed the family."
The walkout follows a one-day strike by Greece's main public-sector union earlier this month, which also demanded wage and pension increases, hiring and tax cuts.
Greek ships remained docked at the country's ports as seamen joined the 24-hour strike.
Since its debt crisis began in 2009, Greece has received 260 billion euros (236 billion pounds) in bailout loans. In exchange, it laid off public-sector workers, raised taxes and cut pensions as part of an austerity drive.
"The bailouts have turned job conditions in the private sector positively medieval," said Ioannis Mariolis, 55, a telecoms worker.
"What am I supposed to do with the hard-euro currency of the Germans when I don't have any to spend? We were much better off with the drachma," he told Reuters.
In its first post-bailout budget for 2019, Greece said it would not implement legislated pension cuts, targeting a primary surplus target of 3.6 percent of gross domestic product next year, in line with its commitment to control public finances.
The government of Prime Minister Alexis Tsipras, which faces elections next year, has also said it would reinstate collective bargaining and raise the minimum wage, which was cut as much as 32 percent to about 500 euros during the crisis, for the first time since 2009.
But GSEE said that the government still would not let employees and employers determine the size of the salaries.
"Today's strike is aiming against another budget of austerity and overtaxation", GSEE's secretary general, Nikos Kioutsoukis, told Reuters. "It is not restoring the collective bargaining regime."
(Reporting by Angeliki Koutantou, George Georgiopoulos, Lefteris Papadimas; editing by Michele Kambas, Larry King)
euronews provides breaking news articles from reuters as a service to its readers, but does not edit the articles it publishes. Articles appear on euronews.com for a limited time.