French commission to urge return of looted African art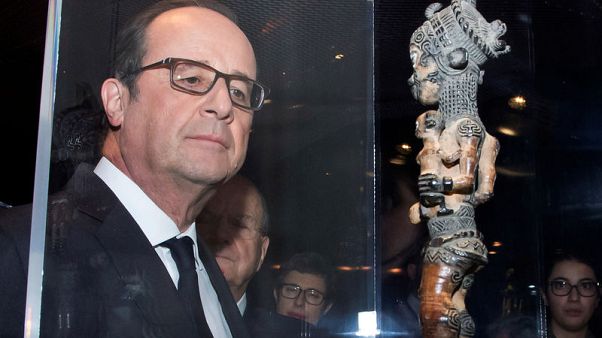 By Aaron Ross and Marine Pennetier
DAKAR/PARIS (Reuters) – French President Emmanuel Macron will formally receive a report on Friday expected to recommend changes to French law to allow cultural artefacts seized from former African colonies to be returned to their home countries.
The report by Senegalese economist Felwine Sarr and French art historian Benedicte Savoy marks a potential milestone in the fight by African countries to recover works pillaged by Western explorers and colonisers.
Macron became the first Western leader to initiate a comprehensive review of colonial loot earlier this year after telling Burkinabe students last year that "African heritage can't just be in European private collections and museums".
Some 90 percent of Africa's cultural heritage is believed to now be in Europe. The Quai Branly Museum in Paris alone holds some 70,000 African objects, as does London's British Museum, Savoy told Reuters earlier this year.
Western museums have traditionally resisted appeals to return objects to their countries of origin, which they often argue lack the necessary resources to care for the works.
According to French newspapers Le Monde and Liberation, which obtained copies of the report, Sarr and Savoy proposed amending the part of the patrimony law governing culture and heritage that forbids national collections from ceding these artefacts.
They called on France to permanently return upon request from African governments objects in its museums that were taken without consent between 1885-1960.
Sarr and Savoy identified around 46,000 objects at the Quai Branly that would qualify, the newspapers reported. Objects in private collections would not be affected, they said.
"We have sensed a real desire by the executive to act," Liberation quoted Sarr as saying. "I was sceptical at the beginning. I am now convinced this is not just a publicity stunt."
Sources close to Macron said on Wednesday that the president would hold additional consultations before settling on a final course of action.
The works' countries of origin have stepped up pressure in recent years to win their return.
Benin has requested the restitution of some of its roughly 5,000 artefacts in France. Earlier this week, the governor of Chile's Easter Island led a delegation to the British Museum to request the return of a prized sculpture.
Several European museums agreed last month to lend works from their collections to a new museum in Benin City, Nigeria. British soldiers seized thousands of metal castings, including the iconic Benin Bronzes, from the Kingdom of Benin in 1897.
But other governments, such as Ethiopia and Greece, have rejected the idea of loans, saying they should not have to borrow back their own stolen property.
(Editing by Alison Williams)
euronews provides breaking news articles from reuters as a service to its readers, but does not edit the articles it publishes. Articles appear on euronews.com for a limited time.