Explainer - What you need to know about Gibraltar in Brexit talks
Comments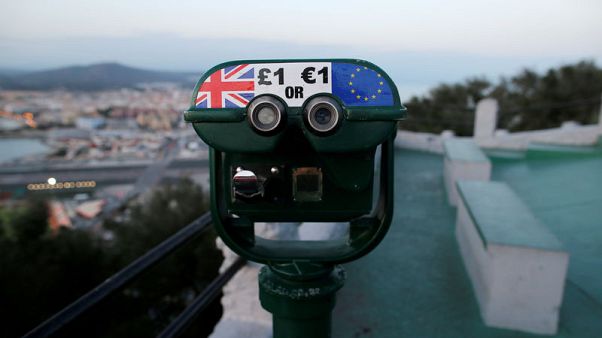 -
By Ingrid Melander
MADRID (Reuters) – Spain is threatening to oppose a deal on Britain's withdrawal from the European Union unless it gets assurances over the disputed peninsula of Gibraltar.
Unlike the much-discussed issue of avoiding a hard border on the island of Ireland, not much has been said publicly about Gibraltar during tense months of Brexit talks.
Why has the very pro-European country come up with an 11th hour objection, and what impact could it have ahead of Sunday's summit, where EU leaders meet to rubber-stamp the Brexit deal?
WHAT IS GIBRALTAR?
The small peninsula, a British territory since 1713 and known to its 30,000 residents as "the Rock", is a major point of contention in Anglo-Spanish relations. Spain has long claimed sovereignty.
Gibraltar is due to leave the EU along with the United Kingdom at the end of March, even though 96 percent of its population voted in the 2016 referendum to remain in the EU.
WHY IS THIS A PROBLEMNOWFORMADRID?
Last week, Madrid had said it was happy with a protocol on the peninsula, but it now says there is a problem with the main body of the text.
Spain says it was not aware until a few days ago of Article 184 of the draft Brexit deal, which relates to negotiations on the future relationship between the EU and Britain, and says it is ambiguous on Gibraltar.
WHATDOESSPAINWANT?
Prime Minister Pedro Sanchez and Foreign Minister Josep Borrell say the withdrawal agreement and a political declaration that goes with it must make clear that negotiations on the future relationship between Britain and the EU do not apply to Gibraltar. Madrid wants guarantees that it alone can decide on the future of Gibraltar in direct talks with Britain.
WHY IS THAT A PROBLEM?
Crafting the tentative Brexit deal has taken a year and a half of difficult talks. EU states are determined not to open Pandora's Box, and the prospect of Britain and others making more requests to modify the text.
WHAT DO OTHERSSAY?
Diplomats in Brussels said they thought Sanchez was trying to score points with voters before a high-stakes regional election in Andalusia on Dec 2. The diplomats said the issue could be solved by the leaders and urged Madrid not to put the whole Brexit deal at risk.
Prime Minister Theresa May told parliament that Britain would not agree to exclude Gibraltar from negotiations on the future relationship with the EU. "We want a deal that works for the whole UK family, and that includes Gibraltar," she said.
WHATCANHAPPENNOW?
According to EU rules, the withdrawal treaty is adopted by qualified majority and not unanimity, so a single state cannot block it. The leaders of the 28 members states minus Britain would, however, seek unity on this most politically sensitive matter.
May travels to Brussels on Wednesday to try to overcome this and other outstanding issues in talks with European Commission head Jean-Claude Juncker.
More diplomatic back and forth will follow, with a meeting of the 27 national EU envoys in Brussels on Thursday and a meeting of EU leaders' main negotiators – or sherpas – on Friday. Then comes Sunday's summit.
Any solution could refer to the fact that in April 2017, the EU 27 gave the European Commission guidelines for Brexit talks that said that no deal between Britain and the EU on their post-Brexit relationship may apply to Gibraltar without a specific agreement between Madrid and London.
(Additional reporting by Gabriela Baczynska in Brussels and Kylie MacLellan in London; Editing by Kevin Liffey)
euronews provides breaking news articles from reuters as a service to its readers, but does not edit the articles it publishes. Articles appear on euronews.com for a limited time.