Macron embraces Europe amid chaos in France
Comments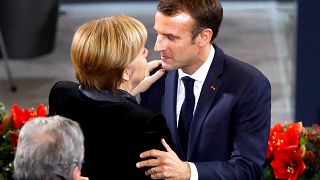 Protests across France against rising fuel taxes entered their second day yesterday - and those involved are vowing to continue their fight.
Calling out President Emmanuel Macron's fossil fuel strategy, the widespread protests saw one woman killed and more than 400 injured as roads and motorways were shut down by demonstrations.
The strategy, which sees taxes on diesel rise by 6.5 cents and 2.9 cents on petrol from January has brought sharp criticism on the French President. And support for the protesters appears to be widespread with a majority of polled respondents supporting those demonstrating.
Emmanuel Macron, however, did not immediately respond. He was in Berlin for the German capital's remembrance day events, and he even delivered a speech to the Bundestag. The French President is expected to head to Brussels today for a meeting of EU leaders.
In his speech to the Bundestag, he underlined that whatever the current problems Europe faced, the Franco-German partnership would not be deterred. He warned that Germany and France "have the obligation not to let the world slip into chaos and to guide it on the road to peace."
But it was on French roads where descent into chaos had already begun. It all comes at a time when polls show that for next year's European elections in France, Macron's backing is dwindling and support for the Eurosceptic Rassemblement National is gaining pace. Macron had previously been criticised by the leader of Rassemblement National, Marine Le Pen, on his last trip to Berlin for speaking English – the party's deputy leader also told AFP that Macron "doesn't believe in France"
President Macron returns to Paris on Wednesday when he is expected to finally address the issue of roadblocks. The Elysee office has said it would be inappropriate to comment whilst Macron is on his Berlin visit.