Florida Republican Scott asks that ballots be guarded in U.S. Senate race recount
Comments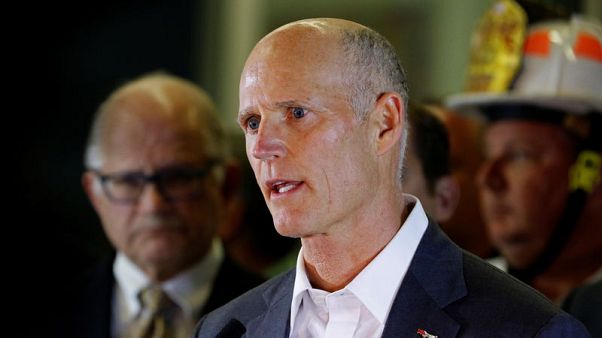 -
(Reuters) – Florida Republican Governor Rick Scott, whose lead has narrowed in the state's U.S. Senate race, filed more lawsuits against local election officials on Sunday, asking a judge to order police to impound voting machines and ballots when they are not in use.
On Saturday, a machine recount began in the race between Scott and incumbent Democratic U.S. Senator Bill Nelson in one of the most closely watched swing-state contests in last Tuesday's congressional elections.
By the time the recount was ordered, Scott's lead had shrunk to 12,500 votes, or 0.15 percent, below the threshold under which a machine recount is automatically triggered under state law. Each side has accused the other of trying to subvert democracy in an echo of the drama in the 2000 presidential vote recount that unfolded for weeks in Florida.
Another recount was also triggered in the gubernatorial race between Republican Ron DeSantis and Democrat Andrew Gillum as DeSantis' lead shrank to 33,700 votes, or 0.41 percent, as of Saturday.
Susan Bucher, the Palm Beach County elections supervisor, told CNN on Sunday that it would be "impossible" for the county to meet the Thursday deadline set for the race recounts.
Scott's lawsuit on Sunday targeted the election supervisors in Democratic-leaning Broward and Palm Beach counties. It asked a judge to issue an emergency injunction for the county sheriffs and the Florida Department of Law Enforcement to seize all voting machines, tallying devices and ballots when they are not being used until the end the end of the recount and any related litigation is over.
Scott filed a separate lawsuit late on Saturday against Broward County officials, asking the judge to order that any ballots counted after noon on Saturday be disregarded, saying that to include them would break state law.
"The Broward and Palm Beach County Supervisors of Elections has already demonstrated a blatant disregard for Florida's elections laws, making it more important than ever that we continue to do everything possible to prevent fraud and ensure this recount is operated responsibly," Chris Hartline, a spokesman for Scott's campaign, said in a statement.
Nelson said Scott was panicking in a statement on Saturday.
"If Rick Scott wanted to make sure every legal ballot is counted, he would not be suing to try and stop voters from having their legal ballot counted as intended," Nelson said in the statement. "He's doing this for the same reason he's been making false and panicked claims about voter fraud – he's worried that when all the votes are counted he'll lose this election."
Nelson has also filed a federal lawsuit asking that provisional and absentee ballots not be rejected because election officials deem that the signatures do not match voters' signatures on file.
(Reporting by Jonathan Allen in New York; Editing by Peter Cooney)
euronews provides breaking news articles from reuters as a service to its readers, but does not edit the articles it publishes. Articles appear on euronews.com for a limited time.