Kristallnacht - One Survivor's Story
Comments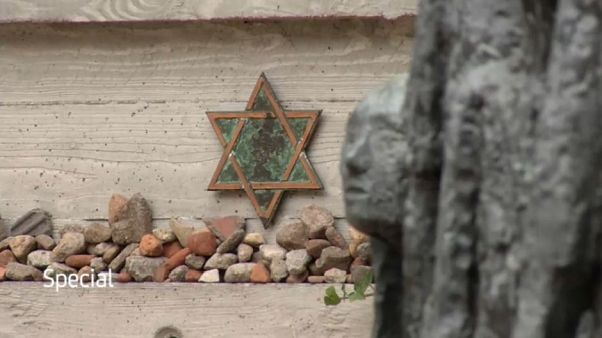 One of the most disturbing chapters of the pre-war Nazi era in Germany is marked on November 9. On this date in 1938 more than 1,400 synagogues and other Jewish institutions were looted and destroyed across Germany and Austria by the Nazis. The incident became known as 'Kristallnacht' - a reference to the frenzied smashing of windows of Jewish Shops and businesses that took place across both countries.
At least 91 Jews were killed in the violence whipped up by Nazi stormtroopers and some 26,000 were rounded up. A precursor to the Holocaust, the events on that night marked the start of the regime's systematic mass murder of millions of Jews. In this series of reports Euronews traces the roots of the pogrom, as the hatred seen 80 years ago still manifests itself across Europe today.
For 10-year-old Ruth Winkelmann, who lived in the outskirts of Berlin, it was the day she says her childhood ended. "I remember the pogrom night very well because I experienced something evil." She told Euronews. Ruth what she thought were multiple burglaries. "that's not a father, that's something else, my father said". She went on to tell of the moment that she saw Nazi stormtroopers beat a Jewish man on the street and paint the star of David on his back. "of course I was frightened but I told myself we are here in the car and here in the car no one can recognise us as Jews." She said. "besides, my daddy was sitting next to me so I wasn't afraid. If my daddy is with me, nothing will happen."
On 10th November 1938, everything seemed to have calmed on the streets, despite the chaos of the night before. So her father and grandfather left Ruth at the gate of the school. Once inside all the students were brought in to the auditorium and the headmaster of the school explained to them in no uncertain terms what was happening. Whilst they were inside she said that Nazi groups began to barricade the entrance to the school with old junk "we couldn't get out anymore and the whole façade was smeared"
During the war, she found refuge in a garden shed. She lived in fear of the Gestapo and the bombs. Of her entire Jewish family only Ruth and one cousin survived the war. Today she worries about the state of society "I'm not scared but concerned - not fear but concern. Because mankind has simply lost the ability to think. Most of the people only carry around their head, but don't use it to think"
After the war, Ruth decided to stay in Berlin. She married and had children. When we asked why she stayed in Germany after the war – she was perplexed at the thought of leaving. "Why would I go?" she said. "I'm a Berliner, I'm a German Jew so why should I go?". Getting teary, she added defiantly "just because some painter from Austria wanted to poison us? No."