EU less optimistic than Italy on growth, sees jump in deficit, yields rise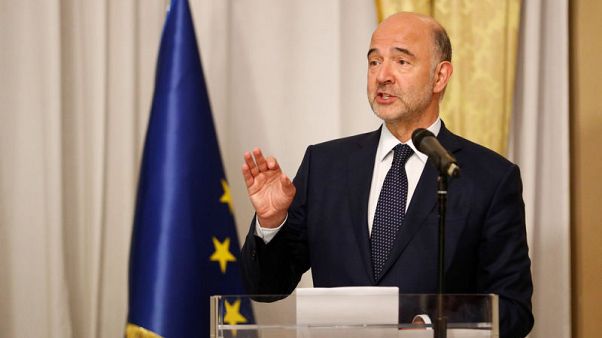 -
By Jan Strupczewski
BRUSSELS (Reuters) – The European Commission forecast on Thursday the Italian economy would grow more slowly in the next two years than Rome thinks, making government budget deficits much higher than assumed by Italy while public debt would be stable rather than decline.
Italian benchmark 10-year bond yields jumped on the forecast from 3.385 to 3.413 percent <IT10YT=TWEB>.
The forecasts underline the Commission's view, backed last Monday by all euro zone finance ministers, that Italy's 2019 draft budget blatantly breaks European Union fiscal rules, which call for annual reductions in deficit and debt.
The Commission's projections are likely to provide arguments for the EU executive arm to start disciplinary steps against Rome later this month, unless Italy sends in a revised budget draft that is in line with EU rules by Nov. 13.
Itay has repeatedly said it would not change the draft budget's targets, triggering a clash with the rest of the euro zone by the populist government in Rome that won elections on promises of higher spending and tax cuts.
Italian Economy Minister Giovanni Tria said the forecasts were wrong and limited.
"The European Commission's forecasts for the Italian deficit are in sharp contrast to those of the Italian government and derive from an inaccurate and incomplete analysis (of the budget)," Tria said in a statement.
"We regret to note this technical slip on the part of the Commission, which will not influence the continuation of constructive dialogue with the Commission," he added.
European Commissioner for Economic and Financial Affairs Pierre Moscovici said he would travel to Rome on Friday and was keen to retain a dialogue, but that there could be no compromise on the rules.
"The word compromise is difficult for me," Moscovici told a news conference. "In the case of Italy I have always been in favour of flexibility," he said.
"As far as rules are concerned, however, we need to respect the rules, we can't have a sort of negotiation."
LOWERGROWTH, HIGHERDEFICIT, STABLEDEBT
In a regular economic forecast for the 28 countries that make up the European Union, the Commission said Italian gross domestic product would grow 1.1 percent this year, below Rome's projection of 1.2 percent in its draft budget.
In 2019, Italian GDP would rise 1.2 percent, the Commission said, instead of the 1.5 percent seen by Italy and in 2020 it would rise 1.3 percent, rather than the 1.6 seen by Rome.
The International Monetary Fund forecast on Thursday a much less favourable GDP growth path for Italy with only 1.0 percent growth in 2019 and 0.9 percent in 2020. It called on Rome to cut its deficit and debt as a priority as long as its economic growth, albeit slowing, was still above potential.
Lower growth means that Italy's headline budget deficit would be at 1.9 percent of GDP this year, above Italy's own forecast of 1.8 percent.
Next year, the budget gap, boosted by plans of higher spending and tax cuts to deliver on election promises as well as higher debt servicing costs, would surge to 2.9 percent, rather than 2.4 percent seen by Italy and to 3.1 percent in 2020, rather than fall to 2.1 as Rome assumes. EU rules foresee headline deficits should stay below 3 percent.
Italy's structural deficit, which excludes one-offs and business cycle swings, would widen even more dramatically from 1.8 percent of GDP seen this year to 3.0 percent in 2019 and to 3.5 percent in 2020.
Under EU rules, of which the Commission is the enforcer, Italy should cut its structural deficit next year to 1.2 percent of GDP rather than allow it to rise and continue cutting it every year until it reaches a surplus.
Deficit cutting policies would help Italy, the euro zone's third biggest economy, to reduce its public debt, the second highest in Europe after Greece. The Commission forecast Italy's' debt at 131.1 percent of GDP this year against 131.2 last year.
Tria has been arguing that the additional stimulus to the economy from the higher budget deficit would accelerate economic growth and that debt would fall as a result.
But the Commission's forecasts showed the effect next year would be miniscule as the ratio would edge lower to only 131.0 percent and it would reverse in 2020 to 131.1 percent.
Financial markets have reacted to the 2019 draft budget with a sharp rise in Italian borrowing costs and euro zone officials are concerned that at some point investors might lose confidence in Italy's ability to repay its debts, triggering another sovereign debt crisis like the one set off by Greece in 2010.
The Commission's forecasts showed that unless Italy's policies change, its primary surplus — the budget balance before debt servicing costs — would fall to 1.0 percent of GDP next year from 1.7 percent in 2018.
It would decline further to 0.8 percent of GDP in 2020 showing diminishing debt servicing strength.
(Reporting By Jan Strupczewski; editing by Francesco Guarascio)
euronews provides breaking news articles from reuters as a service to its readers, but does not edit the articles it publishes. Articles appear on euronews.com for a limited time.