Euro, deeper integration at stake in Italy budget row - ministers
Comments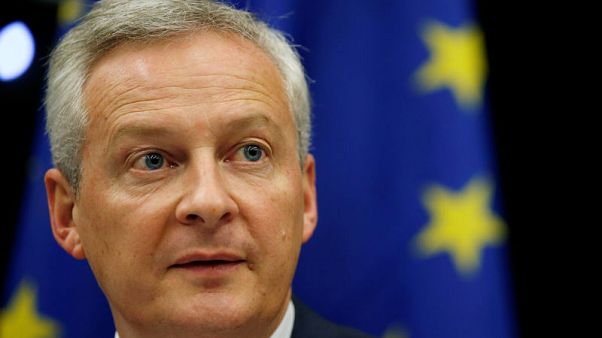 By Francesco Guarascio and Jan Strupczewski
BRUSSELS (Reuters) – The euro currency and deeper economic integration of the 19 countries that share it, is at stake in the dispute between the European Union and Italy over Rome's 2019 draft budget, top euro zone officials said on Monday.
Euro zone finance ministers will discuss later on Monday the European Commission's unprecedented rejection of Italy's 2019 draft budget, although they will take no decisions.
The draft breaks EU rules because it envisages a 0.6 percent of GDP increase in Italy's structural deficit next year rather than a reduction of 0.8 percent of GDP required by EU laws and a recommendation of euro zone peers that Rome accepted in July.
"What is at stake now is our common currency," French Finance Minister Bruno Le Maire told reporters on entering the talks, adding he shared the Commission's view that the Italian budget openly broke EU laws.
"The euro is one of the most important and precious political features in the construction of the European Union over the last few years," Le Maire said.
"The euro is a money that unifies us, that protects us as we face the world's financial turmoil. The euro is a common good that belongs to 19 members of the zone. So we are all responsible," he said.
Italy has until November 13 to send in a revised draft 2019 budget to Brussels, but Italy's ruling coalition leaders repeatedly excluded any possibility of any changes to the budget, saying higher borrowing was needed to kick-start growth.
EU Economic Commissioner Pierre Moscovici said the Commission would wait until Nov. 13 before deciding on any disciplinary action against Italy over the budget, hoping Rome would change the higher borrowing assumptions.
The Commission is to issue opinions on all of the euro zone's draft budgets, including the revised one from Italy, on Nov. 21. If Rome does not amend the budget to match EU rules, the Commission is likely to launch a disciplinary procedure which could lead to a fine of 0.2 percent of Italy's GDP.
ALL IN THESAMEBOAT
Ireland's Finance Minister Paschal Donohoe said the past euro zone debt crisis, which had badly hit Ireland, showed euro countries were dependent on each other's stability and EU budget rules were there to maintain stability.
"If you share a currency with many other countries, we all have responsibilities to each other and those responsibilities are currently articulated in the rules that the European Commission oversees," Donohoe told reporters on entering.
To better prepare for a potential next crisis, euro zone countries want to integrate their economies better, setting up a deposit guarantee scheme, a euro zone budget, rules for debt restructuring and through beefing up its bank resolution fund.
They want to give their bailout fund new powers to closely monitor economies and provide new lending instruments that could be used even before a country is cut off from the markets.
But Italy's profligate budget policies were undermining all that, officials said.
"Italy's behaviour puts our plans at risk," Slovak Finance Minister Peter Kazimir tweeted. "Bear in mind there are those against deeper integration and that camp can happily use Italy's stance to dent our strategy," he said.
Officials are concerned that with a public debt to GDP ratio of 133 percent, Italy would be courting disaster through higher borrowing, especially that the money is to go towards consumption rather than growth-boosting investment.
Many officials say that, should Rome's borrowing costs on the market – already elevated on concern over the 2019 budget – rise to unsustainable levels, there would be no political will in the euro zone now to bail the country out.
Instead, Italy's peers would insist that the 2.3 trillion euro ($2.6 trillion) debt of the euro zone's third biggest economy would first have to be restructured before loans to keep it afloat were provided in exchange for a package of structural reforms.
In a paper prepared for the meeting on Monday, 10 European Union finance ministers wrote they wanted any unsustainable public debt in the euro zone to undergo restructuring, with losses imposed on the private sector, before a public bailout is organised.
(Additional Reporting By Daphne Psaledakis; editing by Philip Blenkinsop)
euronews provides breaking news articles from reuters as a service to its readers, but does not edit the articles it publishes. Articles appear on euronews.com for a limited time.