Deutsche edges up in EU stress tests, still among worst 10 banks in Europe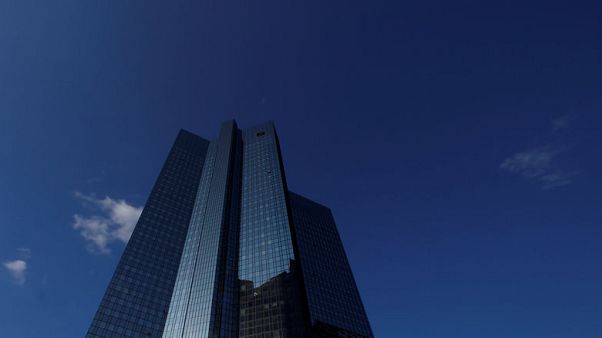 -
By Arno Schuetze and Tom Sims
FRANKFURT (Reuters) – Deutsche Bank <DBKGn.DE> on Friday scored among the ten worst banks in the latest round of European stress tests, yet another sign of weakness at Germany's largest lender.
Under the test's toughest "adverse" scenario, Germany's flagship lender's core capital ratio was 8.1 percent for 2020, placing it in 40th place out of 48 lenders measured.
In the 2016 test, the capital level of Deutsche Bank dropped to 7.8 percent, ranking it tenth from the bottom from a health check for 51 lenders.
Some analysts had expected Germany's biggest lender to fare badly after three years of losses.
There was no formal pass/fail mark, but investors are checking how much core capital lenders hold against a threshold of 5.5 percent. The closely watched health check across the European Union conducted by the European Banking Authority (EBA) could force laggards to raise capital or ditch assets.
"We will not change how we manage the bank after the stress tests", Chief Financial Officer James von Moltke said, adding that the bank's internal stress test methodologies differed from those used by the EBA test.
"We do not expect any impact on our SREP (Supervisory Review and Evaluation Process) levels from the test," he said, referring to the bank's minimum capital levels as defined by the regulators.
The test result mainly reflected the decrease in Deutsche's earnings but did not show the bank's lowered risk profile, because it failed to account for disposed assets and due to the way the test treats strategic liquidity reserves, von Moltke said.
"Due to the design of the test the results do not fully reflect what management has done since the 2016 tests," von Moltke said, adding that if backward-looking elements were taken out, Deutsche's results would have been much more favourable.
A person close to the matter said that adjusted for these factors Deutsche's result would have been around 12 percent.
Despite improvements to Deutsche Bank's capital ratio, analysts had expected 2018 results to be roughly on par with the lender's score in 2016, analysts said, after the EBA included a harsher adverse scenario.
"The result reflects that certain measures to strengthen the capital buffers have been taken. I do not see immediate need for action – such as the sale of assets," said Michael Huenseler, credit manager at Assenagon Asset Management. "The Deutsche Bank result is not shocking and some other banks have clearly fared worse."
British lenders Barclays <BARC.L> and Lloyds <LLOY.L>, and Italy's Banco BPM <BAMI.MI> fared worst in the European Union-wide stress test of banking resilience to simulated market shocks.
After three years of losses at Deutsche Bank, a failed stress test in the U.S., several attempts to restructure, a leadership shake-up and a ratings downgrade, many investors have lost faith in Germany's biggest bank, whose shares have fallen by 40 percent this year.
In June, Deutsche's U.S. subsidiary was the only bank to fail a different set of Federal Reserve stress tests due to "widespread and critical deficiencies" in the bank's capital planning controls.
It was an embarrassment for Deutsche, which regulators deem one of the most important banks in the global financial system.
Last week, Deutsche warned that revenue was expected to drop in 2018 from a year before, though it expected to post a profit for the first time since 2014.
At the time, CEO Christian Sewing pointed to the strength of the bank's CET 1 ratio at 14 percent and that he was "managing our risk levels conservatively".
The credit ratings agency Moody's, which grades Deutsche with a negative outlook in part because of its modest earnings potential, last week called Deutsche's capitalization, asset quality and liquidity "sound".
(Additional reporting by Andreas Framke; Editing by Edward Taylor and Louise Heavens)
euronews provides breaking news articles from reuters as a service to its readers, but does not edit the articles it publishes. Articles appear on euronews.com for a limited time.