Croatian border guards crack down on people smugglers
Comments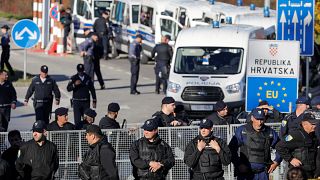 For two years numerous migrants and refugees have been arriving in the town of Velika Kladusa on a daily basis, using Bosnia's capital as a transit point towards it.
Many of them are hoping to pass through the so-called 'Balkan route' into Western Europe, which passes through Albania, Montenegro, Bosnia and Herzegovina and in some instances Serbia. However, Frontex – the agency in charge of controlling EU external borders warn of a crisis of people smugglers.
Croatia is the entry point for these migrants hoping to find a better life inside of the EU. The country is hoping to fulfil technical criteria to be allowed to join the border-free Schengen travel area by the end of the year. If successful they will join the Schengen zone the year after.
Part of these criteria involve strengthening their external borders – something particularly pressing as the number of illegal migrants in Croatia has already risen by 30% this year alone. The Croatian Border Police told Euronews that they arrest people smugglers on "a daily basis". Damir Butina, the head of the Cetingrad Police Fore is in charge of patrolling a 55km long stretch of border with Bosnia & Herzegovina. Butina added that these people smugglers are "abusing the vulnerability of people who wish to cross state borders immediately".
But as Croatia ramps its policing on the border – so do accusations of police violence against migrants. Whilst many migrants manage to continue north, some are thwarted by the police. Reports that officers have stolen phones and money from migrants, verbally and physically abused migrants are also becoming commonplace. "That is not the job of the police to break phones, steal money or beat people," one Afghan migrant told the AFP news agency, holding up his phones shattered screen.