Kellogg cuts full-year profit outlook, shares tumble
Comments
By Reuters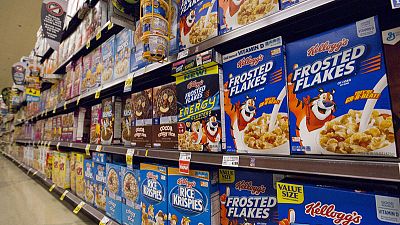 -
(Reuters) – Kellogg Co <K.N> cut its full-year profit outlook on Wednesday, citing increased spending on advertising and higher distribution costs, and shares of the Corn Flakes maker slid 5.6 percent.
Battle Creek, Michigan-based Kellogg has been spending more on advertising and promotions to drive cereal sales, as consumers have shifted towards healthier low-sugar options, protein bars and yogurt for breakfast.
The company now expects full-year adjusted earnings per share to rise about 7 percent to 8 percent, a downward revision from the prior outlook of a 11 percent to 13 percent rise. Analysts on average had been expecting an 11.9 percent rise in full-year adjusted profit, according to Refinitiv data.
"We are in favour of food companies spending more to grow; however, the size and abruptness of Kellogg's decision to 'lean in' to reinvesting caught us by surprise," J.P.Morgan analyst Ken Goldman wrote in a note.
Sales declined 1.3 percent in the third quarter ended Sept. 29 at Kellogg's U.S. morning foods unit, which makes Fruit Loops and other cereals. Sales suffered after a June recall of 1.3 million cases of Honey Smacks cereal due to a potential salmonella contamination. The U.S. Centers for Disease Control and Prevention said at the time that 135 people across 36 states were infected.
Kellogg said the business had been improving with a boost from higher Pop Tarts sales.
Sales fell 3.5 percent to $737 million at Kellogg's U.S. snacks business, its biggest unit.
The company switched its snacks delivery system last year to its more widely used warehouse model to reduce expenses. Previously, delivering its Pringles and Special K cereal bars directly to stores meant it could charge retailers higher prices.
Like other packaged food companies, Kellogg also has been pinched by higher input costs, particularly transportation expenses due to a shortage of truck drivers in the United States.
Net income attributable to the company rose to $380 million, or $1.09 per share, from $288 million, or 83 cents per share, a year earlier. Net sales rose nearly 7 percent, driven by Kellogg's acquisition of protein bar maker RXBAR last October. (https://bit.ly/2AEO7sX)
(Reporting by Richa Naidu in Chicago and Uday Sampath in Bengaluru; Editing by Arun Koyyur and David Gregorio)