China says smog fight will continue even as economic pressures mount
Comments
By Reuters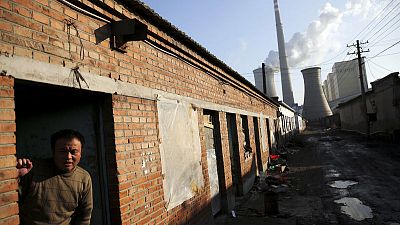 BEIJING (Reuters) – China's battle against toxic air pollution is becoming increasingly difficult but the government will not relent in its efforts even as the economy slows, an environment ministry official told reporters on Wednesday.
China has been shutting vast swathes of industrial capacity, curbing traffic and cutting coal use in pollution-prone regions of the north, but the Ministry of Ecology and Environment warned last week that an economic slowdown was making the campaign against smog more challenging.
Last winter, factories complained their businesses were hurt after indiscriminate production cuts forced them to close whether they had installed pollution controls or not. With July to September economic growth at its slowest quarterly rate since 2009, Beijing is adopting a more nuanced approach this year.
But while the government has set more pragmatic targets based on actual economic conditions, poor weather is expected to make pollution-prone northern regions even more vulnerable to smog this winter, and the campaign will be even more strenuous, said Liu Youbin, spokesman for the environment ministry.
"When making this winter plan, we have to make sure it is feasible and achievable and it cannot be too forward-looking – it will get harder and harder in the future to reduce pollution," Liu said.
"It is biased and not accurate to say China will relax pollution-cutting measures," he added.
Though smog has been cut rapidly during a "war on pollution" now in its fifth year, environmental groups have warned that China has been "backsliding" on its environmental commitments, allowing coal consumption and climate-warming greenhouse gas emissions to creep back up.
Coal use fell in 2014 and 2015, but it has since recovered, and carbon emissions could end up overtaking the 2013 record, estimated at 9.53 gigatonnes.
But China's senior climate change official Li Gao told the Wednesday briefing that while coal consumption has been on the increase, the country's coal-fired power plants are among the world's most efficient, and the share of coal-fired power continues to decline.
"Energy consumption is closely connected to economic development and affected by the economic situation," he said.
"Coal-fired power does have appeal to local governments if not considering external conditions, so it will take time to tackle this problem…It's normal to see some volatility on coal use in some years but our core policy is not changing, and that volatility will not stop us reaching the targets," said Li in the sideline of the briefing.
(Reporting by Muyu Xu and David Stanway; Editing by Christian Schmollinger)