Death of chairman adds to King Power uncertainty as Thai duty-free changes loom
Comments
By Reuters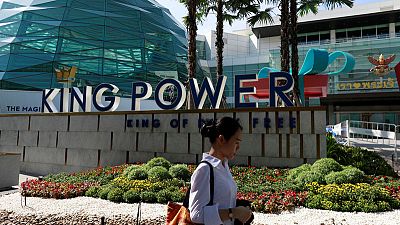 -
By Panu Wongcha-um and Chayut Setboonsarng
BANGKOK (Reuters) – The death of Leicester City soccer club owner Vichai Srivaddhanaprabha adds to challenges his King Power International empire faces as its dominance of the lucrative Thai duty-free industry comes under scrutiny.
Vichai, the founder of King Power, was killed on Saturday along with four others when his helicopter crashed and exploded outside the King Power Stadium in the central England city after a Premier League match.
His death comes just weeks before Thailand plans to hold an auction for its duty-free and commercial concessions, threatening to end King Power's near monopoly of the sector.
State-owned Airports of Thailand Pcl (AOT) <AOT.BK>, which grants the concessions, may consider awarding licenses to multiple operators, analysts said. Unlisted King Power currently controls more than 90 percent of Thailand's duty-free market, being a sole operator with concessions in all major airports in the country until 2020.
AOT also plans to expand Bangkok's main airport, which will increase commercial and duty free space up for auction by around 70 percent, increasing competition among retailers.
Tourism is booming in Thailand, which received nearly 35 million visitors last year, most funnelled through the airports where King Power is ubiquitous. But public debate has increased over the single duty-free operator structure.
"If there is more competition from others and this new generation of leadership (at King Power) is not as effective as Vichai's generation, then there could be changes (in the way the licences are granted)," a senior government official told Reuters, declining to be named due to the sensitivity of the subject.
"AOT has not been convincing enough in defending this model so it will be a tough sell for them to come up with a bidding terms or process that limits competition."
AOT, which has said the current system is important to provide continuity, declined to comment on the bidding process.
"(King Power) has a successful history in duty free retailing and the travel industry, now the question is how effective King Power can be in engaging the government other stakeholders without Vichai's leadership, especially in upcoming auction for concessions in Bangkok, Phuket, Pattaya and Samut Prakan," said Nattabhorn Juengsanguansit, Director at Asia Group Advisors, a government affairs consultancy.
"Winning the upcoming bid is crucial for King Power's business and the future of Leicester football club."
Retail rivals including Central Group <CPN.BK>, the Mall Group and South Korea's Hotel Shilla <008770.KS> are interested in bidding, analysts said.
The companies declined to comment.
SUCCESSOR
While it is not immediately clear who will take over from Vichai, analysts and sources say Aiyawatt, Vichai's youngest son and chief executive officer of King Power, and his widow Aimon are most likely to run the family business. Aiyawatt's nickname is Top.
"Top has been his father's apprentice for more than 10 years so he must have learnt a lot of his trade," said a politician who has close ties with the Srivaddhanaprabha family.
King Power declined to comment on who will succeed Vichai as group chairman. Vichai's four children and his wife are part of the executive team of the company.
A descendant of Chinese immigrants, Vichai founded what became the King Power empire in 1989 with a store in Bangkok selling duty free goods and souvenirs.
His business took off in 2006 when it was granted a concession at the new Suvarnabhumi Airport under the government of then Prime Minister Thaksin Shinawatra.
Even after Thaksin's ouster that year, Vichai's close relationship with the royal family and a knack for winning people over helped King Power navigate political turmoil. Vichai became the country's fifth-richest person with an estimated net worth of nearly $5 billion.
For the group, which has been expanding into sports, winning the upcoming duty-free license auction has become more crucial to get steady cash flow and fund heavy investments to acquire athletes and managing staff.
It bought Leicester City in 2010 and also owns Belgian soccer club Oud-Heverlee Leuven.
While Vichai has been public face of Leicester City, he entrusted the task of running the team to Top, his 32-year-old son.
Top admitted he made some big mistakes while managing the team, but also learned from them.
"If I didn't make those mistakes, I wouldn't be here," he told a TEDx Talk show in 2016, referring to his decision to fire three team managers and buy expensive players who did not perform well.
Top said the team's failure to get promoted to the Premier League in 2012/13 season was "torture" but three years later, Leicester City beat odds of 5,000/1 to win the Premier League title.
Whether he can hit a similar jackpot with the group's duty-free business remains to be seen.
"I don't know how good Vichai's son is," the senior government official said. "If he is as skilful as his father then there is no problem, but we simply do not know."
(Reporting by Chayut Setboonsarng, Panu Wongcha-um, and Patpicha Tanakasempipat; Writing by Miyoung Kim; Editing by Lincoln Feast.)