Merkel jams spanner into EU reform, but some see acceleration ahead
Comments
By Reuters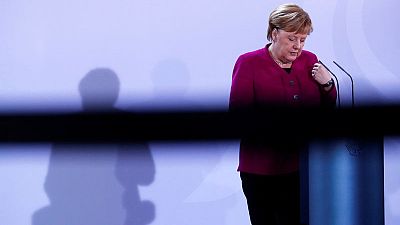 -
By Alastair Macdonald
BRUSSELS (Reuters) – Angela Merkel's announcement that she will step down as party leader and, in time, as German chancellor jams a wrench into EU reforms but might just eventually, some think, invigorate Berlin's key role in European integration.
Merkel, 64, said her fourth term, ending in 2021, would be her last. For many European Union policymakers and analysts picking over a historic day, the consequence is likely to be prolonged paralysis and a Germany less inclined to share its wealth and locked in confrontation with its neighbours.
Some, though, see at least a chance that the shock, triggered by poor regional election results, could in time lead to a new coalition more committed to strengthening the EU. This might mean a role for the resurgent, europhile Greens, or Merkel herself seeking to burnish her European legacy in defiance of many of her own Christian Democrats in parliament.
"For the European Union, this comes at the worst possible moment to have (agree) anything at the December Council," said Lucas Guttenberg, deputy director in Berlin of the Jacques Delors Institute think-tank, devoted to European integration.
Pressure from French President Emmanuel Macron and others to agree measures to strengthen the shared euro currency may be frustrated again at the Dec. 13-14 summit, as Merkel may have to defer on key issues to a new CDU leader chosen a week earlier.
While ministers have agreed some minor tweaks to euro zone rules, Macron's ambitions for a grand new construction – and hopes for wider EU reforms in the wake of Brexit – must be dimmed: "Her room for manoeuvre was already quite constrained," said Guttenberg, noting that it took six months to form Merkel's present coalition. "For Macron or others, it's not good news."
For others, however, a showdown with Italy over its plans for a radically expansive budget next year despite big debts has already killed off much ambition in Brussels, making Merkel's weaker position in Berlin less of a deciding factor.
ELECTIONTROUBLE
Rather, her electoral problems showed a further decline for traditional big parties, a trend that has profited both Macron and also eurosceptics such as Italy's new ruling coalition, several EU diplomats in Brussels and other capitals said.
And in that, the dimming of Merkel's influence after 13 years as Europe's key power-broker could mean trouble ahead as EU leaders try to resolve new confrontations.
"Germany will be absent," said a senior diplomat in eastern Europe. "Getting things done will be even more complicated."
Merkel played a key role in tempering German hawks when it came to north-south divides over public finances in the euro zone. More recently, she has helped to bridge splits between east and west over EU subsidies and civil rights, drawing in part on her experience of living in Soviet-bloc East Germany.
"For central and eastern Europe, having someone as German chancellor who actually knows what it is to live under Communist dictatorship was an enormous privilege, the importance of which we will only really learn when it's over," the eastern diplomat said.
Guttenberg at the Delors Institute expected Germany to maintain its broadly pro-EU consensus and stick to established lines on Britain's new place outside the bloc and in resisting Rome's bid to tear up spending rules.
But "constructive" moves to deepen integration would be on hold: "I do not expect revolutions."
MACRONMOMENT?
On the other side, economists at Citibank wrote that electoral success for the Greens could be positive for those seeing euro zone reform as good for the economy and even provoke a "Macron moment" in Germany, with the emergence of a broadly backed centrist movement to tackle problems.
"The rise of the pro-EU Greens (is) a significant potential positive, at least for the euro zone," they wrote.
Among sceptics, however, is Philippe Lamberts, the Belgian co-leader of the Greens in the EU parliament, who noted that Green successes have been matched by the rise of eurosceptics: "If Merkel loses control of the CDU, it is the very idea of European integration in Germany that will lose."
One hope, he said, was that Merkel could now afford to spend her political capital on pushing Germans to accept changes that would mould the euro less to their own national advantage – a view echoed by ING Germany economist Carsten Brzeski, who wrote:
"It could give Merkel the freedom and tailwind … to put a final stamp on her legacy, possibly with bolder steps to reform the German economy and the monetary union."
At the Friends of Europe think-tank in Brussels, chairman Giles Merritt argued that Merkel has brought "inertia" to the EU, and a failure to rein in German surpluses that have strained the single currency to breaking point, threatening the Union.
"Fears of post-Merkel volatility and even chaos are understandable, but short-sighted," said Merritt. "It's to be hoped that the prospect of her stepping down will act as a catalyst and bring home to German voters their greater self-interest, which is European cohesion, not short-term gain."
(Editing by Kevin Liffey)