Georgia presidential vote to go to runoff after no outright win - election commission
Comments
By Reuters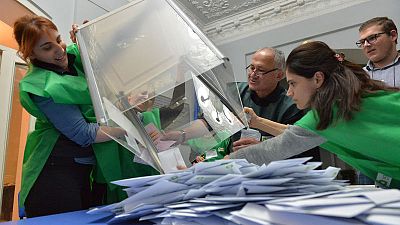 -
TBILISI (Reuters) – Georgia's presidential election will go to a runoff after no single candidate won outright in the first round of voting, the country's Central Election Commission (CEC) said on Monday.
After 100 percent of the votes from the first round of voting, which was held on Sunday, had been counted French-born former diplomat Salome Zurabishvili had secured 38.7 percent of the vote, while Grigol Vashadze, a former foreign minister, had won 37.7 percent of the vote, the CEC said.
Tamar Zhvania, the head of the CEC, said that there were some irregularities, but that no serious violations had taken place during the election.
Zurabishvili was backed by the ruling Georgian Dream Party, while Vashadze was running on behalf of a new platform of 11 opposition parties led by former president Mikheil Saakashvili's United National Movement (UNM).
The second round of voting will occur no later than Dec. 2.
(Reporting by Margarita Antidze; Editing by Andrew Osborn)