Erdogan opens new 'Istanbul Airport', Turkey's biggest
Comments
By Reuters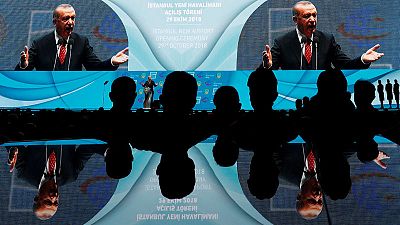 -
ISTANBUL (Reuters) – President Tayyip Erdogan opened a new $11.7 billion (£9.1 billion) airport outside Istanbul on Monday that officials say will be one of the world's busiest, though delays mean it will not be fully operational until January.
The airport will be able to handle 90 million passengers a year, and can be expanded to accommodate as many as 200 million, Erdogan said.
For the first two months, however, it will be used for just a few flights within Turkey and to Azerbaijan and northern Cyprus – a setback for authorities hailing it as a centrepiece of the construction boom that has driven breakneck economic growth under Erdogan's 15-year rule.
Speaking at the opening ceremony, Erdogan said the hub would be called "Istanbul Airport", and would further Turkey's integration into the global economy.
"With the operation of Istanbul Airport, European air space will have to be restructured," he said, adding that he expected it to be used for a large number of intercontinental flights.
The airport has been dogged by criticism over working conditions and safety standards. In February, the labour ministry said 27 workers had died since construction started in 2015, and last month police detained hundreds of protesting workers. [nL5N1W107P]
Former transport minister Ahmet Arslan originally said that all flights to and from Istanbul's Ataturk Airport – one of Europe's five busiest – would transfer to the new airport within 48 hours of Monday's opening.
But the flagship carrier, Turkish Airlines, now says only some flights to Ankara, Izmir and Antalya, as well as international flights to northern Cyprus and Azerbaijan, will be using the new airport for now. Its other routes will remain at Ataturk for the rest of this year.
Istanbul is a major hub for transit flights, attracting lucrative transfer traffic this year from major airports in the Gulf as Turkey recovers from security worries, according to the travel data analysis company Forward Keys. [nL8N1PY3WE]
(Reporting by Ali Kucukgocmen; Editing by Kevin Liffey)