Gymnastics - Biles in hospital with kidney stone hours before worlds
Comments
By Reuters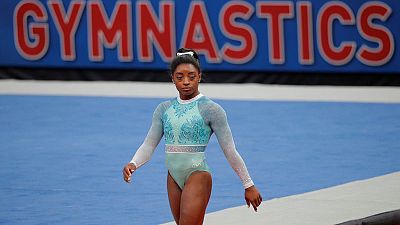 -
(Reuters) – Simone Biles was in an emergency room in Doha with kidney stone problems less than 24 hours before she was to compete in qualifying for the world gymnastics championships, the Olympic champion said on Twitter on Friday.
The problem, however, was not going to keep her out of the championships, she said.
"Nothing like a late night ER visit less than 24 hrs before world championships," Biles tweeted, adding pictures of her in the emergency room.
"This kidney stone can wait….doing it for my team! …I'll be gucci girls!"
USA Gymnastics was not immediately available for comment, but an hour after Biles' comments, the federation said in a tweet of its own "@Simone_Biles and the rest of the team are amped to get things rolling."
Biles, 21, won four gold medals and a bronze at the 2016 Rio Olympics.
She returned to competition this year after taking a break in 2017 and is aiming for her fourth world all-around title.
(Reporting by Gene Cherry in Wilson, North Carolina; Editing by Greg Stutchbury)