China's industrial profits growth slows for fifth month as demand wanes
Comments
By Reuters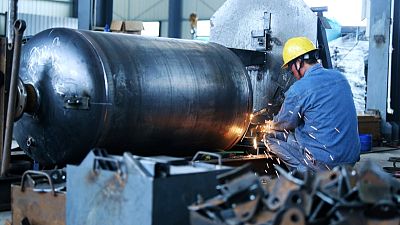 -
BEIJING (Reuters) – Profit growth at China's industrial firms slowed for the fifth consecutive month in September as sales of raw materials and manufactured goods further ebbed, pointing to cooling domestic demand in the world's second-biggest economy.
The slowdown was in line with data last week that showed September's factory output grew at the weakest pace since February 2016.
Industrial profits rose 4.1 percent in September from a year earlier to 545.5 billion yuan (£61.23 billion), the National Statistics Bureau (NBS) said on Saturday. That was less than half of the pace in August, and the slowest since March.
Earnings in September were mainly pressured by a greater slowdown in production and sales, declining price growth, as well as a high statistical base a year earlier, He Ping of the statistics bureau said in a statement accompanying the data.
An escalating trade war with the United States has also added to the pressure on overall output, and threatens to chill business investments and earnings growth in the months ahead.
Data last week showed the Chinese economy in the third quarter grew at the weakest pace since the global financial crisis as manufacturing output slowed.
In the first nine months of the year, industrial profits increased 14.7 percent, driven by earnings of companies producing steel, building materials, oil and petrochemicals.
But the growth slowed from the 16.2 percent pace seen in January-August.
Industrial firms' liabilities rose 6.1 percent from a year earlier by the end of September to 63.1 trillion yuan, compared with an increase of 6.6 percent by end-August.
(Reporting by Ryan Woo and Zhang Min; Editing by Michael Perry)