Marsh eases some pressure on test place with battling innings
Comments
By Reuters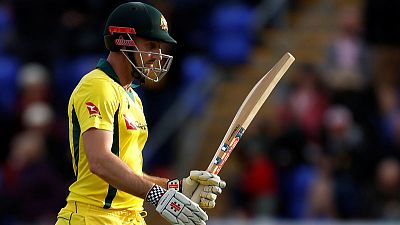 -
MELBOURNE (Reuters) – Embattled Australia batsman Shaun Marsh helped relieve some pressure on his test spot ahead of the home series against India as he scored 80 for Western Australia in a first-class match on Friday.
The 35-year-old Marsh has borne the brunt of the criticism of Australia's batting woes in their recently completed tests against Pakistan in the United Arab Emirates after he scored a total of 14 runs in four innings.
Pakistan sealed the two-test series 1-0 after they won the second game by 373 runs when they bowled Australia out for 145 and 164.
Marsh has averaged 35.28 in 34 tests for Australia and with the test series starting against India in Adelaide on Dec. 6, national coach Justin Langer had said some of the top order spots were up for consideration.
He singled out Marsh as being a player who had needed to "stand up" during the Pakistan series but had struggled, and many pundits expected form in the domestic Sheffield Shield competition would probably go a long way to deciding the first-test side.
Former Australia captain Ian Chappell, however, said he felt Marsh deserved to still be in contention for the test side due to the fact he had scored runs at the highest level.
Marsh was one of the keys to Australia regaining the Ashes at home last summer against England as he scored two centuries and two half centuries.
"Everyone is jumping up and down about dropping this bloke or that bloke. That's easy. Any fool can drop blokes," Chappell told Channel Nine in Australia this week.
"You've got to find somebody better to replace them. It's fine to say drop Shaun Marsh but at least you know he has made runs at test level — good runs.
"The bloke you might be thinking of replacing him with (Glenn) Maxwell, (Aaron) Finch for instance – haven't got the runs at test level that Shaun Marsh has."
Langer, however, will not be able to consider introducing promising youngster Will Pucovski to the national team, with the 20-year-old receiving treatment for a mental-health related illness and taking an indefinite break from the sport.
Pucovski made a sensational start to the Sheffield Shield season with 243 for Victoria against Western Australia last week. It was his second first class century in only his seventh game and had springboarded him into the national conversation.
Cricket Victoria, however, said on Friday the right-hander was receiving treatment for the illness.
"Will's health remains our highest priority and Cricket Victoria's medical staff will continue to provide support to Will during this time," Cricket Victoria doctor Trefor James said.
(Reporting by Greg Stutchbury in Wellington; Editing by Amlan Chakraborty)