Indian police arrest more than 2,000 people after hill temple protests
Comments
By Reuters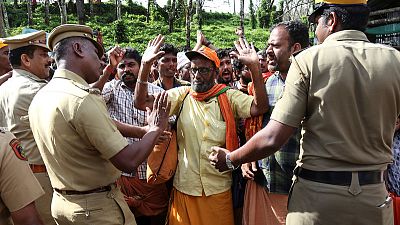 By Malini Menon
NEWDELHI (Reuters) – Police in India's Kerala state have arrested more than 2,000 people in the past few days in a crackdown on demonstrators protesting against allowing women of menstrual age into a prominent Hindu temple, state officials said.
Conservative Hindu groups last week prevented women from entering the Sabarimala hill temple, clashing with police and damaging cars and buses, in defiance of a Supreme Court ruling that lifted a centuries-old ban on women or girls aged from 10 years to 50.
India's top court last month declared the ban illegal, saying it infringed the right to worship. [nL4N1WE425]
"We have registered around 450 cases and arrested around 2,000 people so far," the state's top police official Loknath Behera was quoted as saying by ANI News, a Reuters partner.
"We have identified several others and more arrests will be made. We will do what must lawfully be done," Behera added.
It is unclear how many people have been charged as many of the cases could involve more than one individual.
State authorities had appealed to the protesters not to turn the area around the temple into a battlefield last week. But many who believed in the ban took to the streets, thwarting efforts by a few women to visit the temple when it opened for a few days last week.
They say that the ban was essential to the rites related to the temple's chief deity Ayyappan, considered eternally celibate. In some Hindu communities, menstruating women are regarded as unclean, leading to restrictions and in a few cases outright bans from entering certain places.
In Pathanamthitta district, where the temple is located, there were 160 arrests, said the district police chief T. Narayanan.
"We have registered 51 cases and made 160 arrests so far, mainly on charges of destruction of public property, outraging the modesty of women, and obstructing government servants from doing their duty," Narayanan told Reuters.
Some of those arrested are in jail because their offences were non-bailable, he added.
Many of the 2,000 arrested were people from other districts who had joined the protests and were later identified by police from video clips.
More than a dozen petitions have been filed urging the Supreme Court to review the ruling, which was passed by a full, constitutional bench. The lone woman judge on that five-member bench, Justice Indu Malhotra, had upheld the practice, saying, "notions of rationality cannot be invoked in matters of religion."
Activists in favour of the ban say they see hope in her dissenting voice.
The Supreme Court will hear the review petition on Nov. 13, days before the temple's next re-opening on Nov. 17.
The police are preparing new plans to safeguard women who want to go to the temple then.
"We're taking suggestions from a police committee on how to provide protection to women. We'll discuss it with the (state) government as well," police chief Behera said.
The temple, nestled in a forest on a hillside in the Western Ghats mountain range is miles from the nearest road and getting there means climbing up some steep slopes. It remains open for only 127 days in a year.
(Reporting by Malini Menon; Edited by Martin Howell, Richard Balmforth)