Allied Irish hit by CEO exit in growing exodus over pay cap
Comments
By Reuters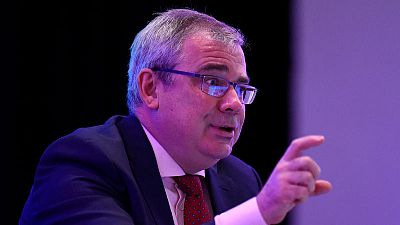 -
By Padraic Halpin
DUBLIN (Reuters) – Allied Irish Banks <AIBG.I> chief executive Bernard Byrne is joining an exodus which Ireland's second-biggest lender has blamed on a pay cap and growing demand for bankers as international financial firms move to Dublin due to Brexit.
AIB said on Friday Byrne would depart next year, leaving it looking for a new CEO as well as a chief financial officer after Mark Bourke said last month he was quitting.
It will also revive the debate on the ban on bonuses and a cap on pay introduced during Ireland's banking crisis a decade ago.
AIB chairman Richard Pym said last week this had turned the state-controlled bank, whose shares fell 6.3 percent to 3.92 euros at 0910 GMT, into a "training ground" for competitors.
"It was a very grim day in my life when Bernard told me that he had an external opportunity which he wanted to pursue. The fact that it came so soon after the resignation of our CFO, Mark Bourke, made it doubly difficult," Pym said in a statement.
AIB raised the prospect over a year ago that it could potentially lose staff to international banks that are moving operations to Dublin as a result of Brexit, and do not fall under the Irish pay restrictions.
Byrne, who declined to comment on his plans, told the Irish Times last week that of AIB's 200 most senior managers, a "mid-teens" percentage had left since its 3.4 billion euro ($3.9 billion) listing last year, a slightly higher attrition rate than normal that he said was accelerating.
EASY TO LEAVE
Byrne also said last week that without pay, pension or share incentives "it's very easy to leave" and that this was causing a bit of a drag in terms of investor interest in AIB.
The bank's shares are well below the 4.40 euro listing price achieved at Europe's largest initial public offering of 2017 and more than 30 percent down on a high hit early in 2018.
Although AIB sought to introduce a deferred share plan for senior executives earlier this year, it was voted down by the government, which retains a 71 percent shareholding.
While Irish Finance Minister Paschal Donohoe acknowledged the restrictions could act as a barrier to the retention of some staff and launched a review, he said the policy was appropriate.
Any policy change is complicated by the fact that Donohoe is part of a minority government that has just begun talks over whether to renew a cooperation deal or go to the polls.
Donohoe thanked Byrne in a statement, saying he would leave AIB in a much stronger financial position as outlined in a trading update in which the bank said it was on track to deliver on full-year expectations.
($1 = 0.8800 euros)
(Reporting by Padraic Halpin; Editing by David Goodman/David Holmes/Alexander Smith)