Migrants clash with police at Bosnia-Croatia border
Comments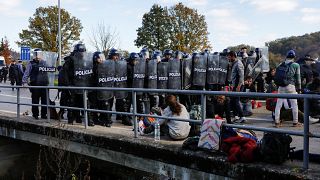 Several people have been injured in Bosnia & Herzegovina in a stand-off between police and migrants trying to cross into EU member state Croatia.
Hoping to pressure neighbouring Croatia to open its border, hundreds of migrants have spent several nights this week sleeping on roadsides - blocking access to the border. A spokesman for Croatian police told reporters "Croatian police will protect the border, but at the same time fully respecting international, humanitarian and our own laws."
Photographers for Reuters reported that several people were injured on Wednesday - as stones were thrown at the Croatian police - they responded by firing teargas and using batons to push back the migrants.
Bosnia & Herzegovina currently hosts thousands of migrants and refugees who have fled wars and poverty. Aid groups are warning of a looming humanitarian crisis about as winter approaches.