EU farmers battle parched soil to harvest smaller sugar beet crop
Comments
By Reuters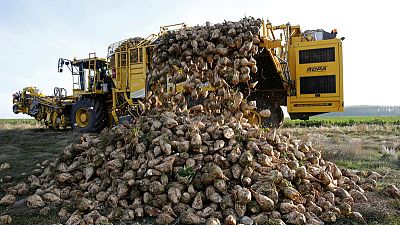 -
By Gus Trompiz and Michael Hogan
PARIS/HAMBURG (Reuters) – A continuing lack of rain in Europe has slowed sugar beet harvesting as farmers struggle to lift the crop from parched soil, which could further shrink yields this year.
An unusually warm and dry start to autumn has exacerbated summer drought conditions in parts of Europe and has dashed hopes in some crop belts that sugar beet plants would gain extra yield in the run-up to harvesting.
In France, arid conditions have led growers group CGB to lower its estimate of the average sugar beet yield this year to about 80 tonnes per hectare (t/ha), down from 86 t/ha expected at the start of harvesting last month and well below the average of the past five years, the CGB's Timothe Masson said.
"We're talking about poor yields," Mason said. "Sugar content is good but the crop volume is lagging."
For sugar, mainland France could see output drop from just over 6 million tonnes last season to around 5.3 million tonnes in 2018/19, he said.
Farmers and sugar makers delayed the start of the harvest campaign last month in the driest zones. But little rain has fallen since, and growers are now hoping showers forecast from this weekend will make harvesting easier.
In Germany, drought-affected beet yields were similarly outweighing good sugar content readings, said Stefan Lehner, deputy chief executive of German sugar industry association WVZ.
"In past weeks, as in the months before, hardly any significant rain has fallen and this is being seen in the beet yields," Lehner said.
"The dry ground is also making harvesting very difficult which could also mean a reduction in beet deliveries."
Germany's refined sugar production in the current 2018/19 season will fall about 14 percent on the year to 4.41 million tonnes, the WVZ estimates.
Beet deliveries are expected to fall about 16 percent on the year to 26.8 million tonnes, although average beet sugar content is expected to rise to 18.37 percent from 17.9 last season.
In Poland, beet harvest estimates may have to be revised down if dryness persists, said Rafal Strachota, director of Polish sugar beet growers' association KZPBC.
"It is still dry in the fields. Beet roots are not growing, so the beet yield is not increasing," Strachota.
"In some regions we are even observing that the average yield is lower compared to previous deliveries."
Poland should nonetheless produce 2.2-2.3 million tonnes of refined sugar, up from 2.1 million tonnes last season, the KZPBC currently estimates.
The European Commission estimates total EU sugar production will fall by about 2 million tonnes from last season to 19.2 million, and analysts say this could help ease global oversupply that caused prices to plunge just as the EU sector was emerging from a quota system last year.
(Additional reporting by Ana Ionova in London; editing by David Evans)