Brazil's Bolsonaro accommodates interest groups behind his rise
Comments
By Reuters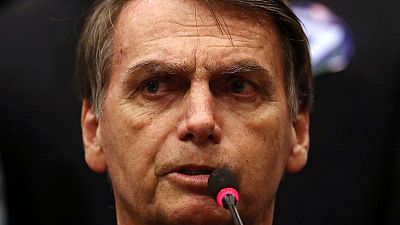 -
BRASILIA (Reuters) – With victory in sight in Brazil's presidential race, right-wing candidate Jair Bolsonaro is facing pressure from interest groups that backed him to deliver on his promises and drop plans to merge ministries.
Conservative caucuses ranging from evangelicals to farmers and pro-gun lawmakers have visited the front-runner at his home this week to make sure their agendas are on the front-burner if as expected he becomes president-elect on Sunday.
Industry leaders told Bolsonaro they opposed the combining of the ministries of finance and planning with the industry and trade portfolio into a super ministry that would be headed by his economic policy guru Paulo Guedes.
"If this is their interest, for the good of the country, we will maintain the trade and industry ministry, no problem" Bolsonaro said in a Facebook live appearance on Wednesday night.
The former Army captain is running on an anti-corruption platform vowing to end the political horse trading of Brazilian politics. He had planned to cut the number of ministries from 29 to 15 to reduce graft and patronage.
Bolsonaro wants to put the culture and sports portfolios under the ministry of education.
But his most controversial plan to merge the ministries of agriculture and the environment set off a storm of criticism from environmentalists who say it would undermine Brazil's commitment to protect the Amazon rainforest.
Even Brazilian farmers, staunch fans of Bolsonaro's vow to relax environmental rules and limit indigenous reservations, are thinking twice about the merger because it could hurt their exports by angering environmentally aware consumers abroad.
"There has been some friction over whether the environment ministry should be merged with the agriculture ministry. For my part, I am ready to negotiate," Bolsonaro said.
Another Bolsonaro promise to the farm lobby, the easing of gun control laws to allow them to arm themselves against rising crime in rural areas, could actually happen before he takes office on Jan. 1 if he defeats left-wing Workers Party candidate Fernando Haddad as expected.
The Speaker of Brazil's lower chamber of Congress, Rodrigo Maia who aims to stay in the job, said on Wednesday he intends to move ahead with the issue after Sunday's vote.
Proposals in Congress would change Brazil's 2003 disarmament statute, which banned all but the security forces from carrying weapons, and make it easier for Brazilian to buy guns and possess weapons in their homes and farms.
(Reporting by Rodrigo Viga Gaier in Rio de Janeiro, Eduardo Simoes in Sao Paulo and Maria Carolina Marcello in Brasilia; Writing by Anthony Boadle; Editing by Michael Perry)